Citroen DS3 vs. MINI Cooper
It's the most important Citroen in years – so we see if the new DS3 premium hatchback is worthy of its famous name as it takes on the class-leading MINI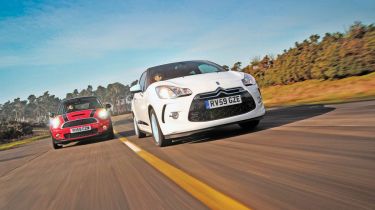 *Note: The model pictured is a MINI Cooper S, not the Cooper model used in the actual test.
Citroen is being brazen as it launches the DS3. Advertising straplines claim theall-new premium hatch is "Anti Retro" – so it doesn't take an awful lot of imagination to work out that the car is aimed squarely at the MINI.
Opponents don't get much tougher, because the nostalgic British hatchback has seen off all-comers in the premium supermini sector, and it delivers first-class handling, too.
Don't underestimate the new DS3, though – it stands a better chance than most. Its 118bhp 1.6-litre petrol engine is the same as the unit under the bonnet of the MINI Cooper in our twin test. A more powerful turbocharged version, with 148bhp, is also available, but the former looks set to give the MINI a real run for its money, with a price tag of £13,700 and the promise of virtually identical performance.
The Citroen has another trick up its sleeve: it's bigger than the current class leader. It can accommodate three passengers in the back – something its competitor has never been capableof doing. What's more, the French company has beefed up its aftersales service to woo buyers attracted by MINI's tlc package.
We hit the road to see if the DS3 is a true MINI rival – or simply a three-door C3 in a posh frock...
Verdict
BY targeting the MINI, Citroen has set its DS3 a tough brief. The Brit car is king of the premium superminis, delivering an electrifying drive, bags of desirability, a host of customisation options and a first-class ownership experience.
The Citroen stacks up well. It makes a bold visual statement and is spacious, comfortable and refined. Also in its favour is its lower price of £13,700 and more generous spec. Kitting out the MINI to the same level will cost £14,760.
Yet while residual values have yet to be calculated, we'd be surprised if the DS3 matches the Cooper's 55.2 per cent. So although you spend more to buy a MINI, you're likely to get more back at resale time. Add quality, desirability and driving fun, and it keeps its crown in the premium supermini pecking order. The Citroen runs the MINI closer than any contender yet, but the 1.6-litre DStyle has to concede defeat.