Hyundai ix35 vs rivals
Hyundai's new ix35 crossover faces a tough battle against Peugeot, Nissan and Skoda rivals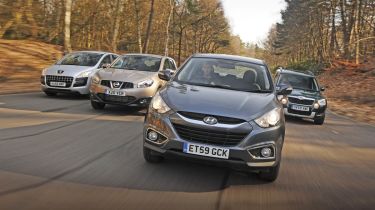 Off-roaders that play the role of a family car are nothing new, but the latest examples are the best yet when it comes to impersonating hatchbacks.
Since the big-selling Nissan Qashqai got the ball rolling in 2006, other car makers have been queuing up to knock it off its perch. However, it takes time to develop and launch a new model, which explains why a wave of rivals has just landed.
The latest brand to dip its toe in the so-called crossover market is Hyundai. Its ix35 is available with two and four-wheel drive, and promises car-like dynamics as well as the firm's best-quality interior ever. If the newcomer wants to make an impact, it needs to get the better of our current compact SUV favourite – the Skoda Yeti.
Peugeot is also taking the plunge, and Auto Express has already tested its 3008 against a selection of talented MPV rivals.
It came up short against the best people carriers around. Will it fare any better here?
The path to glory is also barred by Nissan, as the sector-defining Qashqai has been given a mid-life makeover to help combat its new competitors. We test them all in two-wheel-drive diesel guise as we go in search of the crossover king.