MINI Countryman meets its ancestor
We bring the biggest MINI ever face to face with the car that started it all- the 1959 Morris Mini Minor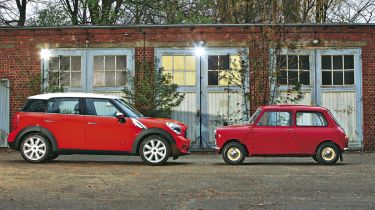 Mini by name, definitely not mini by nature! The Countryman will be the fourth model to join the range when it steamrollers into showrooms in September, but with four-wheel drive and offroader dimensions to match, is it still a MINI? We brought it face to face with the original 1959 Morris Mini Minor to find out.
Before the new BMW-engineered hatchback first showed its face in 2001, we were sceptical about whether it could live up to the legend of the Alec Issigonis-designed original. But the moment we got our hands on one it was clear that BMW had done a fantastic job of transferring the DNA.
Sure, the current Hatchback, Clubman and Cabriolet are all longer, wider and taller than the 1959 original but they retain the same cheeky styling and go-kart handling that made that car so famous. The Countryman's arrival though has forced us to re-evaulate exactly what it is that makes a MINI a MINI.
The reaction at the Countryman's unveil in Geneva was lukewarm, with some journalists pointing out that it was too big and lacked charm. And lined up against the Morris Mini Minor its inflated dimensions are brought into even sharper relief.
Measuring 4.11 metres bumper to bumper, the Countryman is over a metre longer than its ancestor. And while the roofline of the original sits at just 1.35 metres the Countryman towers over it at 1.56 metres high. Side by side the 51-year old car looks tiny and fragile, the 4x4's 18-inch rims are almost twice the diameter of its modest hub caps.
And it's not just the Countryman's expanded waistline that has MINI traditionalists up in arms. It's the first five-door model to ever wear the iconic badge, the first with all-wheel drive and as if to cement its 'outsider' status it will be built not at the plant in Oxford, but contracted to Magna Steyr in Graz, Austria.
Having said all that, BMW's business model is impeccable. Expanding the range not only attracts new customers to the brand but lowers production costs at the same time. And that's the key to the Countryman - it's not targeting diehard MINI fans, but a whole new type of clientele.
Gone are the days when the new MINI relied on its traditions and origins, the current family of BMW-designed MINIs are an ingenious marketing product, more of a global lifestyle product than a car manufacturer - and one that appeals to both hairdressers and chief executives alike. The Countryman simply adds another string to its bow.