Mercedes 300SL vs SLS AMG
Mercedes' gullwing SLS AMG has a hard act to follow in the 300SL. We pit the stunning pair head-to-head...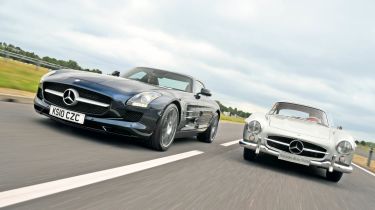 Living up to a legend is never easy – but the new Mercedes SLS has the toughest job imaginable. Look at the beautiful curves of the original 300SL and it's hard to believe that this model is nearly 60 years old. The incredible machine is part of automotive folklore; a proven race winner and desirable road car all in one.
And it comes wrapped up in one of the most intoxicating shapes ever conceived. The mere sight of it is enough to leave most enthusiasts speechless, and its gullwing doors are synonymous with one of the most glamorous machines on the planet. Against that backdrop, it's not hard to understand why the German marque has taken so long to come up with a suitable replacement. After all, why risk diluting a legend with a car not worthy of the G-word?
Its successor has been years in development and comes directly from the brand's AMG tuning division. But have the results been worth the wait? We put the SLS up against its Fifties inspiration to find out if it lives up to its billing…
Verdict
Let's get one thing straight from the start: there are no losers here. Both of our test contenders deliver unforgettable driving experiences that are in keeping with their lofty price tags.
The stunning 300SL is a car which has captivated fans ever since its launch in 1954. With its racing roots, gorgeous lines and innovative engine, the Gullwing represents an important part of our motoring history. Its old-fashioned dynamics make it challenging to drive, but that's all part of its appeal.
Fortunately, the SLS doesn't have to make any such excuses. Sharp responses and awesome performance mean the newcomer is a fully paid-up member of the supercar club. Better still, it achieves all this while retaining the unique spirit – and crowd-pulling gullwing layout – of the original. If you're searching for the must-have car of 2010, then look no further.