Best 14k cars
With the average price of a new car £14,000, we try five very different top buys for the money...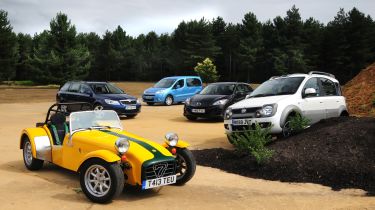 The average price of new cars sold in the UK is around the £14,000 mark... but there's nothing 'average' about the cars we've picked here for that budget.
They all meet very different objectives, but enjoy a common link: they're brilliant new car buys – at the right price! So, whether you want something fast and fun or big and practical, our five new vehicles will fit the bill. Taking care of the thrill seekers is a low-slung two-seater from Caterham in the form of a 1.6 Classic. For 4x4 lovers, we've brought along the Fiat Panda Cross – a hugely popular car in the Auto Express office. It's a common sight in the Alps, where fans of winter sports love its go-anywhere ability, so it should make easy work of anything the UK can throw at it.
Everyday drivers who need something safe, practical, entertaining and attractive can afford the excellent Mazda 3, tested here in 1.6-litre petrol guise. And if space is the name of the game, it's hard to beat the Skoda Octavia estate. In 1.2-litre TSI trim, it's a real surprise package.
The final car in our line-up combines incredible capacity with MPV versatility... the Citroen Berlingo Multispace needs no introduction, and comfortably falls within our £14k budget. Plus, at this price, you can even afford a practical a seven-seat version, making it something of a bargain.