All-new 9-5 vs Superb
Fresh from its recent troubles, revitalised Saab has introduced its all-new 9-5. Can it tempt buyers away from Skoda's brilliant Superb?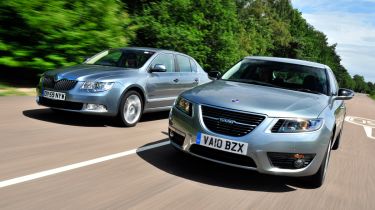 What a difference a few weeks can make! Fewer than four months ago, Saab was in the midst of a forced liquidation process after parent company GM failed to sell it. Now, thanks to the efforts of Spyker boss Victor Muller, the firm is enjoying a new lease of life, and has just launched the most advanced vehicle in its history.
The new 9-5 has looks inspired by the Aero-X concept car, as well as models from the maker's past, so it is certainly distinctive. It's big, too, with a bodyshell that measures over five metres long, and comes with plenty of kit.
Here we test the 158bhp 2.0-litre diesel in Vector SE trim, which looks set to become the best seller of the range.
Lining up alongside it is another intriguing saloon in the shape of the Skoda Superb. The cut-price limo is an Auto Express favourite, and it offers impressive build quality and astonishingly generous levels of standard equipment. Buyers also get a healthy dose of driver appeal and plenty of space for both passengers and luggage. It lacks the premium badge of the big Swede, but with a 168bhp 2.0-litre common-rail diesel engine and the VW Group's brilliant DSG transmission, there's more performance for less money.
Verdict
The 9-5 is an important car for Saab, but the firm will need to keep its celebratory champagne on ice for now. We think the diesel is the weak link in the range, and that's unforgivable given oil-burners' popularity in this sector. Hampered by the slow-witted automatic gearbox, occasionally rough engine and uninspiring handling, it loses out here.
The 9-5 looks more attractive than the Skoda and offers nearly as much interior space, while it also returned slightly better economy on our test. But that isn't enough.
For the money, you'll be hard-pushed to find a saloon that is as well equipped, good to drive and spacious as the Superb. It's also well built, with material quality that could shame models costing thousands more. Factor in its impressive 2.0 TDI engine and the slick six-speed DSG gearbox, and it is an unbeatable package.
Results
1st - Skoda Superb 2.0 TDi Elegance DSG The Skoda presents a formidable challenge for the Saab. It isn't the most stylish choice, admittedly, but in virtually every other respect it betters its Swedish opponent. Impressive build quality, vast interior space, a smooth but gutsy drivetrain and attractive prices make it a thoroughly exceptional package.
2nd - Saab 9-5 2.0 TiD Auto Vector SE Fans of the brand will welcome the arrival of the best new Saab for years. With distinctive styling, a practical and well finished interior and decent equipment levels, it has undoubted appeal. But it doesn't do enough to win over buyers who don't have a strong affinity to the company.