BMW 535d vs. Jaguar XF
Muscular new BMW 535d meets Jaguar's XF diesel in a heavyweight head-to-head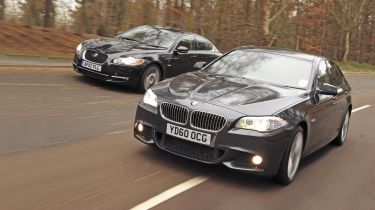 As with all the best prize fighters, Jaguar doesn't know when it is beaten. The XF saloon was our 2008 Car of the Year, but it lost its executive car crown last year 
to the new BMW 5-Series.
Now, the big cat is aiming 
to win back its title. The 3.0-litre Diesel S is the nearest thing to an oil-burning version of the hot XFR, and with the new £1,276 Adaptive Dynamics Pack, the car has 20-inch alloys and active dampers to fine-tune the ride and handling.
Time doesn't stand still in 
the competitive executive class, though, and BMW is ready to meet Jaguar's challenge head-on. The new twin-turbo 535d model matches the 600Nm torque output of the Brit, but also produces 24bhp more power, at 295bhp. Better still, the arrival of this new 5-Series variant coincides with the introduction of M Sport 
trim to the range. It is expected 
to account for the lion's share 
of sales across the line-up.
The package includes a new front bumper and purposeful twin-spoke alloys – to ensure the model looks the part – while more supportive seats, moody anthracite headlining and a unique steering wheel provide a sporty flavour inside. Standard cars feature M Sport suspension, too, but ours is fitted with the firm's impressive £2,265 Adaptive Drive set-up to provide the ultimate 
in chassis technology.
This promises to be a classic encounter between two saloon car heavyweights, but which will land the knock-out blow? Will the Jaguar chalk up a surprise victory or will the BMW underline its superiority? We bring them face-to-face to find out.
Verdict
Road test verdicts don't come any tighter than this, and neither of these cars will leave you feeling short-changed. The Jaguar is the emotional choice, as its beautiful looks and unique cabin provide a feelgood factor that's missing from the BMW. But a quick drive in the 535d throws a different light on matters.
The German car's incredible engine, brilliant gearbox and more capable chassis are enough to place clear daylight between our duo. So this meeting has all the hallmarks of a 535d win... until you look at the numbers. The XF's huge specification and strong residuals cancel out the advantage of the BMW's lower emissions.
You really can argue the case either way but, in this most focused of tests, the Jaguar has the edge. We're not convinced by the styling tweaks of M Sport trim, and for all its ability, the BMW is too expensive. Victory here goes to the Jaguar.