Peugeot RCZ vs Renaultsport Megane
Hot hatch meets hot coupé as the sizzling Renaultsport Mégane takes on the stylish Peugeot RCZ.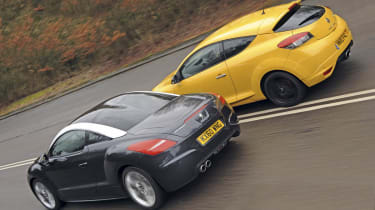 When it comes to hot hatch and coupé models, French manufacturers like to blur the boundaries. For example, the sportiest machines in the Peugeot and Renault line-ups are closely matched when it comes to price, but one is a hot hatch billed as a coupé, while the other is a coupé that drives like a hot hatch.
Both have won Auto Express group tests in the past, but it's time to throw the form book out of the window as we bring together two of the best cars in years from the across the Channel. In flagship THP 200 guise, the Peugeot RCZ features tweaked suspension and an upgraded chassis, while its 200bhp 1.6-litre turbocharged engine delivers superb performance. It also boasts one of the most eye-catching shapes on the road.
The rakish Renaultsport Mégane 250 isn't short of visual appeal either, particularly in our test car's bold yellow paint finish, while its 2.0-litre 247bhp powerplant delivers scorching pace. Fitted with the optional Cup chassis, it also promises to deliver a razor-sharp driving experience.
This is sure to be a closely fought contest, but which of our pair offers the more desirable mix of style, performance and handling? Read on as we get to grips with two cars that really do celebrate the French philosophy of vive la difference.
Verdict
These machines deliver driving thrills by the bucket load and are great to look at. With its Cup chassis upgrades, the Renaultsport Mégane is a no-holds-barred hot hatch. Its punchy 247bhp engine delivers searing acceleration, while its astonishing grip and engaging handling ensure a frenetic driving experience.
The RCZ has the sharp responses, accuracy and handling precision you'd expect of a sports car. Its smooth and tuneful engine, slick gearbox and communicative controls make it a joy to drive. The stylish coupé is also more comfortable to live with day-to-day and, in THP 200 guise, it comes very well equipped.
Only one of them has the wow factor, though, and this unique ability to make every trip an event is a precious commodity. It's the difference in this test, and enough to secure the narrowest of victories for the Peugeot RCZ.