BMW 5 Series vs Audi A6
We get ready for a close finish as the ultra-efficient new BMW 520d ED takes on our reigning executive champ, the Audi A6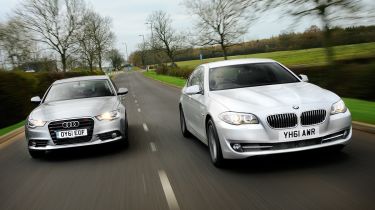 The 5 Series is ready to fight back. After losing out to the Audi A6 in our annual New Car Awards, the big BMW is out to reclaim top spot in the executive class.
Leading the charge is the new EfficientDynamics (ED) model. It promises supermini-rivalling CO2 emissions of 119g/km, plus claimed 62.8mpg fuel economy. Based on the standard 520d SE, it aims to cut running costs for business and private buyers.
Better still, BMW claims these eco-friendly tweaks haven't come at the expense of the car's sharp driving dynamics and relaxing refinement. However, it can't celebrate just yet, because standing between the ED and success is the Audi A6.
In entry-level 2.0 TDI SE guise, it's still one of the best executive models money can buy. And while it can't quite match the BMW's low CO2 figure, the A6 is cheaper and better equipped than its rival. So, can the Audi cling on to its title, or will the economical new 520d ED prove to be the comeback king?
Verdict
When choosing a company car, Benefit In Kind is king. Models looking to become a common sight in the corporate car park need competitive tax bills, and that means low emissions and reasonable prices.
Yet there's more to executive car success than cost-cutting: any class contender also needs to be desirable, good to drive and well equipped – and this is where the Audi A6 scores so highly.
The stylish saloon is beautifully built, spacious and features plenty of standard kit. What's more, it has excellent straight-line speed and a very composed chassis, while it's as refined as any other car in the class.
Yet the 520d ED isn't short of premium appeal and its rear-wheel-drive chassis delivers even more driver thrills. It also boasts a roomy interior, a decent haul of kit and is as solidly built as its rival. The only downside is the blunted performance that results from the car's various eco-friendly tweaks.
But for most drivers, this will be a small price to pay for the significant Benefit In Kind savings on offer. Impressively low CO2 emissions mean the BMW costs company users less to tax than a smaller Audi A4, let alone the A6. Factor in its better fuel economy and the 5 Series takes a comfortable victory in this encounter.
WinnerBMW 520d ED ★★★★★ As an ultra-efficient executive saloon, the 520d EfficientDynamics is a tough act to beat. It shares the imposing looks, classy cabin and sharp driving dynamics of the standard 520d, while adding impressively low running costs. It's a superb package that's only let down by slightly underwhelming performance.
2ndAudi A6 2.0 TDI SE ★★★★★ Make no mistake, the Audi A6 is still a hugely capable and desirable executive car. It's neatly styled, features a class-leading cabin and comes brimming with equipment as standard. What's more, it's refined and good to drive. But if it wants to regain its place at the top of the class, the A6 needs to deliver lower CO2 emissions and better fuel economy.