Chevrolet Aveo vs Hyundai i20
Has Chevrolet finally come up with a supermini class contender? We test the new Aveo against the Hyundai i20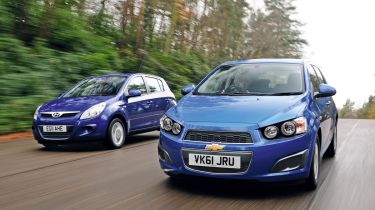 Chevrolet doesn't have a great track record when it comes to building superminis, but that's something the company is aiming to change with its all-new Aveo. Made in Korea but with a famous American badge, the previous Aveo failed to capture the imagination of UK buyers.
But the second generation is designed to compete against the best in the class, with bold styling, a revised interior and handling optimised for European tastes. It's longer and wider than the car it replaces and comes with a five-year warranty and fixed-price servicing, on top of competitive pricing – so it's undeniably great value.
We tested the 1.3-litre VCDI eco diesel, which also promises small fuel bills and sub-100g/km CO2 emissions, meaning exemption from road tax and congestion charging. But so does the Hyundai i20 1.4-litre CRDi Blue, and if the Aveo is going to be a success it has to take on this accomplished cut-price contender.
The i20 also comes with a five-year warranty and has always impressed with its quality, tidy handling and refinement – so this is sure to be a close contest.
Verdict
If you want evidence that the current crop of affordable superminis gives you plenty for your money, look no further than this pair.
The Hyundai i20 and Chevrolet Aveo have roomy and solidly put together cabins, while frugal engines and sub-100g/km emissions mean running costs are satisfyingly low. Better still, both have five-year warranties and are fitted with air-conditioning, Bluetooth and stability control as standard.
Picking a winner isn't easy. The new Aveo is the best small car we've seen from Chevrolet. It drives well enough and quality has taken a step forward. In fact, its handling is a fraction sharper than the Hyundai's, but an unsettled low-speed ride and the narrow power band of the VCDI engine let it down.
The i20 Blue costs £550 more than the Aveo LT, but it gets a six-speed gearbox. Plus, Hyundai's five-year warranty provides coverage for unlimited mileage, and you get a five-year recovery deal. The simple and inoffensive cabin has similar space to the Aveo, too.
The i20 rides better and offers more torque, making it more relaxing to drive. Performance is similar, but the Hyundai is more comfortable and its neat styling is less divisive. It wins by a narrow margin – although Chevrolet has done enough to ensure the Aveo is now a real contender in this class.
WinnerHyundai i20 Blue ★★★★ Hyundai's vast new model programme means the i20 is one of the oldest cars in its line-up – but it's still a very accomplished all-rounder. Although it's not as good to drive as the Aveo, a combination of value, quality and efficiency gives it plenty of appeal. That's enough to secure a close-fought victory against the fresh-faced Chevrolet.
2ndChevrolet Aveo LT ★★★ Chances are you'll either love or hate the Aveo's styling, which may be enough to steer your decision. It certainly stands out, so if you want an eye-catching supermini, the little Chevrolet could be for you. But the peaky power delivery, controversial looks and poor ride cost it victory over the Hyundai.