Peugeot 3008 HYbrid4 vs rivals
World's first diesel hybrid, the Peugeot 3008, meets two very different rivals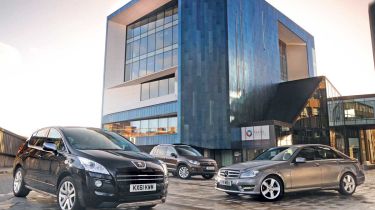 Don't be fooled by the ordinary looks of the latest
Peugeot 3008
. The innovative bits are all on the inside. Hybrids are nothing new, but this car combines electric power with a fuel-efficient diesel engine for the first time. The results are impressive, as the four-wheel-drive crossover boasts an incredible blend of power and fuel economy.
Nothing in this class can compete with the HYbrid4's 104g/km CO2 emissions or 200bhp power output, and it all comes wrapped in a practical family car body. The catch? Its £28,495 list price.
With so many strings to the Peugeot's bow, we've tested it against a pair of very different cars. If you want a flexible SUV with plenty of space, style and economy, the VW Tiguan is an obvious choice, and the 2.0 TDI BlueMotion Technology undercuts the 3008 on price.
Our second rival costs just £1,000 more than the HYbrid4, but the Mercedes C220 CDI shows just what the Peugeot is up against. Is its mix of premium appeal and pace enough to see off the 3008?
Verdict
Peugeot has a good reputation for innovative engineering, but the 3008 HYbrid4 isn't the quantum leap forward the figures suggest. Its advanced diesel-electric powertrain doesn't deliver the fuel economy returns to justify its price premium over ordinary diesel 3008s.
If efficiency is your priority and you regularly drive into London's Congestion Charge zone, then the cheaper entry-level 3008 is worth a look, as it also emits less than 99g/km of CO2. But in this trim, the Peugeot can't compete.
The VW Tiguan has the edge in our first contest with its sharp dynamics, style and price, while the refined, comfortable and high-quality Mercedes takes victory in our second match-up.
3008 vs Tiguan
Winner VW Tiguan ★★★★ It's not perfect, but the Tiguan is still one of the best crossovers around. Its uninspiring interior and understated looks can't detract from the superb driving experience and versatility, so it takes a well deserved victory in this contest.
2nd Peugeot 3008 ★★★ The 3008 HYbrid4 tries to do too much at once, and struggles as a result. It's more efficient than any of its rivals, but the poor ride and lack of refinement are a real letdown. And it's not as practical or as rugged as its looks suggest.
3008 vs C-Class
WinnerMercedes C-Class ★★★★ A fine cruiser, the Mercedes edges in front thanks to its superior real-world performance and badge appeal. What it lacks in practicality it easily makes up for in cabin quality and comfort. But the new BMW 320d ED will be even cleaner.
2nd Peugeot 3008 ★★★ Cheaper and better-equipped than the C-Class, the Peugeot is hampered by its flawed dynamics. Predicted residual values are also poor, with the 3008 expected to retain around a third of its new price after three years' ownership.