Fiat Panda vs rivals
New Fiat Panda faces a steep climb to get to the top of the city car class as it meets its rivals from Kia and Hyundai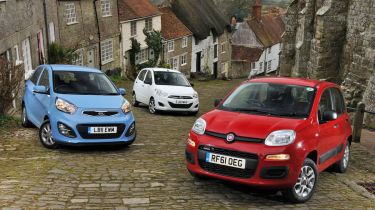 With global sales of 6.4 million and a well earned reputation for offering rugged, affordable, no-frills transport, the Fiat Panda has become an institution. Yet in recent years, it has faced an uphill battle to stay at the top of the city-car class.
Launched in 1980, the long-serving original Panda became a legend in its own lifetime. The MkII model won our Car of the Year title in 2004, but newer rivals have overtaken it – something Fiat hopes to address with the longer, taller and wider MkIII Panda.
There's a choice of three trim levels and four engines. We tested the mid-spec Easy with the predicted best-selling 69bhp 1.2-litre petrol engine.
Facing up to the Panda are two of the best city cars around: the recently refreshed Hyundai i10 and a five-door Kia Picanto. All three come in below the magic £10,000 mark, but which one offers the best blend of value, space, fun and style on a budget?
Verdict
The new Panda retains the charm, style and fun of its predecessor. It also handles and rides better than before, and its attractive cabin adds to the appeal. So if you want a city car that puts a smile on your face, this is it. But does it win this test?
Not quite. Value for money counts for a lot in the sub-£10,000 class, and the Fiat looks pricey, as the Kia and Hyundai both come with more kit and industry-leading warranties. The Panda also has the least amount of rear legroom.
However, it does beat the Kia. The stylish Picanto has a smarter cabin, but it's held back by its breathless engine and firm ride.
That leaves the i10 to take a narrow victory. It has the strongest engine, a roomy cabin, plenty of kit and a cracking aftersales package. Add solid residual values and it's hard to argue against our reigning champ. But with the VW up! five-door arriving in September, the pecking order could be about to change significantly.
Winner Hyundai i10 ★★★★
The Hyundai's exterior styling and cabin are starting to show their age. Yet the i10 takes the win here thanks to its strong performance, tidy handling, solid build quality and great value. It's also surprisingly practical and comes with the excellent Triple Care aftersales package.
2nd Fiat Panda ★★★★
The new Panda is great to drive and packed with character. You get keener handling than rivals and refinement is excellent, so it's the best all-rounder here. But it's not perfect: the cabin is cramped, we wish it came as a proper five-seater as standard and it looks poor value in this company.
3rdKia Picanto ★★★★
To get a Picanto for less than £10,000, you have to go for the three-cylinder engine, which offers leisurely performance. It rides firmly, too, but it looks great, and has an impressive cabin plus lots of kit. It's the best choice for town driving.