90 years of MG: mega road test
We celebrate MG's special birthday in 2014 with a round-up of star cars old and new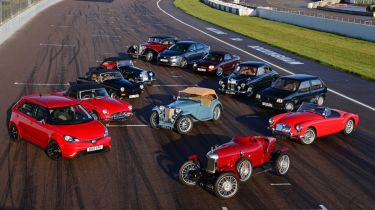 It's been a rollercoaster ride for MG, but 2014 marks 90 years since founder Cecil Kimber registered the company as a car manufacturer. And what better way to celebrate than to bring some classic MGs together with the brand's current cars, and see how far it has come?
It all started when Kimber was working as a sales manager at Oxford-based car dealer Morris Garages in the twenties. He turned his hand to upgrading the regular Morris models on the forecourt, and these proved so popular, he branded them as MGs through his newly founded company. In the years that followed, the MG badge became synonymous with sporty and affordable roadsters and saloons.
It's suffered a rocky path, though, with a takeover by Morris Motors in 1935, before being absorbed into the huge BMC conglomerate in 1952. MG suffered in the seventies under British Leyland, and was taken over countless times, until the doors closed on the factory in Longbridge, W Mids, in 2005. But MG is back, with a new owner aiming to turn it into a global brand.
On the pages to the left, we take a trip down memory lane with some famous MGs from years gone by, but don't forget that MG is currently selling two new models.
Nine decades separate Old Number One from the latest MG3, and while the 90th anniversary is the perfect opportunity to reflect on MG's history, the company's current owners are very much looking forwards.
Car assembly has returned to Longbridge, but perhaps more importantly the West Midlands plant is a hive of activity, with designers and engineers working to develop future MGs. Marketing director Guy Jones said: "Our long-term plan is to establish MG as a global brand. We have a development team at Longbridge because the UK has the talent that will allow us to deliver strong products.
"Having a leading manufacturer [Chinese owner SAIC] behind us gives us the resources to expand." And development is progressing quickly, with the MG6 diesel already made more efficient, and new engines in the pipeline.
But this progress doesn't come at the expense of MG's traditional values, according to chassis man Andy Kitson. "I always liked Cecil Kimber's philosophy that an MG didn't necessarily need to be fast, as long as it handled well," he said. "That's what we've aimed for, and is why the new cars are developed on UK roads. The forthcoming SUV [opposite] will stick with this tradition."
The company has the foundations for global expansion in the MG3, MG6 and SUV, so when will it return to its roots and build a sports car? It's not on the cards yet, but is a definite consideration for the future. "Once we're established, we can think about building a sports car flagship," said Jones.
MG3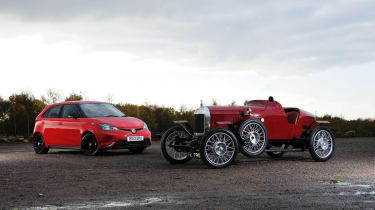 Engine: 1.5-litre 4cyl, 105bhp Transmission: Five-speed manual, front-wheel drive 0-60mph: 10.4 secsTop speed: 108mph Price range: £8,399-£9,999
The MG3 supermini launched earlier this year, and offers MINI-style personalisation on a budget. The range tops out at just under £10,000, and the flagship 3Style features luxuries such as cruise control and reversing sensors, plus auto lights and wipers.
Most cars get a DAB digital radio, iPod connection, LED running lights and a leather steering wheel, while owners can upgrade their cars with great-value graphics and coloured wing mirror housings.
Under the bonnet there's only one option: a 1.5-litre petrol. While it isn't the cleanest or most efficient engine around, keep it revving and it complements the MG3's sharp handling well.
MG6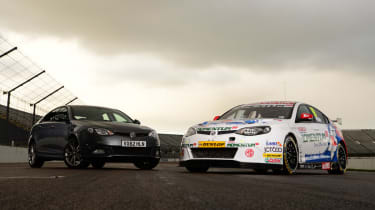 Engines: 1.9-litre 4cyl diesel, 148bhp; 1.8-litre 4cyl petrol, 158bhp Transmission: Six-speed manual, front-wheel drive 0-60mph: 8.9 secs (diesel), 8.4 secs (petrol)Top speed: 120mph Price range: £15,455-£20,195
Introducing an all-new car to market is tough enough, but MG plunged head-first into the cut-throat hatchback class when it launched the MG6. In reality, the model falls somewhere between Ford's Focus and Mondeo in terms of size, and it cuts a dash on the road with its blend of curves and sharp angles.
Buyers get a choice of two engines: a 1.8-litre petrol or a 1.9-litre diesel. The chassis has been developed on British roads by UK engineers, and it delivers entertaining handling. The sub-£20k MG6 also represents great value, with the top-spec TSE getting dual-zone climate control, Bluetooth, sat-nav and heated leather seats.