Mercedes GLC vs BMW X3 vs Audi Q5
Does the Mercedes GLC have the breeding to match high-society rivals from Audi and BMW?
Mercedes has been plugging holes in its range over recent years, with cars such as the A-Class family hatch and GLA crossover finally offering real competition to big-selling cars from arch-rivals Audi and BMW.
But while we've had to wait a bit longer for Mercedes to build a mid-size SUV, the next stage in the luxury brand's model offensive is finally here, and the GLC is aimed straight at Audi Q5 and BMW X3 territory.
There's lots to like with these two stylish adversaries though, so the GLC won't have it all its own way. Being the new kid could work in its favour as buyers look for the latest in a sector where image counts, but the Mercedes needs to have the combination of performance, space and equipment to back up its looks and rise to the top of the class. We've lined up high-spec and higher-powered four-cylinder diesel versions of each to see if the car has been worth the wait, and which model is the compact SUV king.
Head to head
Image
Looks are important in this sector, and the fresh-faced Mercedes arguably has the most appeal here. However, what the badge brings to the ownership experience will hold as much value for some buyers. Our three test cars all have premium images that mean they'll be suited to pretty much every occasion.
Technology
BMW's iDrive system is the slickest user interface, but Mercedes' touchpad and scroll wheel isn't far behind. Audi uses a similar set-up, but the small screen and low-res graphics take the shine off a polished system. Audi's newer products excel here, showing the Q5's age.
Adaptive dampers
Electronically controlled suspension is available on all of the cars on test. This widens all three cars' breadth of abilities, making them sportier when you want them to be, and more comfortable when you don't.
Verdict
First place: Mercedes GLC
The GLC has been well worth the wait. It's more expensive than rivals, but it's better equipped, and its engine is more powerful and more efficient.
The Mercedes looks distinctive and offers the best balance between comfort and enjoyment, yet it'll also be cheaper to run for business users thanks to its low CO2 emissions. Its blend of quality and practicality completes the package.
Second place: BMW X3
The grippy chassis and slick gearbox mean the X3 is still the SUV for keen drivers. However, despite its high-quality cabin, its not as comfortable as the GLC, and it's also slow.
Poor residuals and high insurance bills cancel out the affordable servicing costs and impressive real-world fuel economy, while the GLC's clever touches mean the BMW isn't quite as usable.
Third place: Audi Q5
Time is starting to catch up with the Q5. Even with this latest 187bhp TDI engine, its high CO2 emissions and less able chassis relegate it to last place.
It's also comparatively cramped inside, while the technology doesn't look or feel as fresh as its rivals'. It's comfortable, but the Audi is slow and will cost the most to run. That should change with the new Q5 later this year.
Coming soon
2016 Audi Q5
Due: Late 2016
Price: From £35,000 (est)
Engine: 2.0-litre 4cyl, 187bhp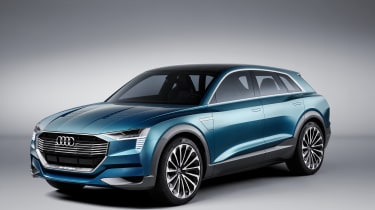 Later this year Audi will reveal a new Q5. It will have styling inspired by the E-Tron SUV concept (pictured) and should also be sharper to drive, cleaner and more practical.