Kia Picanto vs Volkswagen up! vs Hyundai i10
Looking for a sophisticated city car? Kia's latest Picanto has a mature feel, but can it outshine the VW up! and Hyundai i10?
For half a decade now, if you wanted the most mature city car money could buy, the Volkswagen up! has been the default choice. However, the new Kia Picanto could be just about to change the status quo.
Kia has set about thoroughly re-engineering its city car, instilling a new-found sense of maturity and upmarket appeal to rival the VW. The brand will also have to look a little closer to home, though, if it wants to reign supreme in the sector. In 2016, Korean sister firm Hyundai released a revised version of its i10 city car which also offers a grown-up feel, a good level of space and practicality, plus comes at an affordable price.
All three boast surprisingly stylish design and clever packaging that ensure buyers downsizing to a city car have to make as few compromises as possible. However, the margins are tight in this class, so it doesn't take much to edge ahead of competitors.
We test all three to see whether the Picanto represents a change in the tide, or if the established options in the form of the VW and Hyundai wash away the challenge from Kia.
Kia Picanto
| | |
| --- | --- |
| Model: | Kia Picanto 1.0 GDi 2 |
| Price: | £10,750 |
| Engine: | 1.0-litre 3cyl, 66bhp |
| 0-60mph: | 12.4 seconds |
| Test economy: | 49.8mpg/11.0mpl |
| CO2: | 101g/km |
| Annual road tax: | £140 |
In an effort to peg the Volkswagen up!, Kia has released this more sophisticated Picanto city car. A 1.0-litre turbo engine will be available in time, but here it's the entry-level naturally aspirated 1.0 petrol we test in £10,750 '2' trim.
Kia says the alterations it's made to the Picanto's engine and chassis add up to make this the quietest city car around, both at idle and at a cruise. Yet while it's definitely an improvement on the previous generation, it still doesn't quite rival the up! when it comes to maturity on the move.
The Kia offers adequate performance, though, given this engine is the least powerful available in the range. Our 0-60mph sprint took 12.4 seconds, but flat-out performance isn't a priority in a city car. Chopping and changing between speed limits in built-up areas means torque and tractability are more important, so the Kia's decent showing between 50 and 70mph in fifth, taking 13.9 seconds, and its 9.5-second time from 30-50mph in fourth highlight the flexibility of its performance.
The naturally aspirated triple is smooth, and revs fairly sweetly. The gearshift isn't quite as positive as the VW's, but it's by no means obstructive when you're trying to make progress. Lengthening the wheelbase has improved the ride, so over rolling bumps the Picanto feels relatively relaxed for its size. Sharper ridges in the road cause the chassis to react abruptly, though – especially from the rear, where the car pogos up and down, lacking body control.
Around town, this firmer edge to the ride is less noticeable, and the Picanto copes with ripped-up and rucked urban roads reasonably well.
Testers' notes: "Alongside this 1.0, there's a more powerful 83bhp 1.25-litre four-cylinder. It's available on all except the base Picanto, but we think this three-cylinder has enough performance."
VW up!
| | |
| --- | --- |
| Model: | VW up! 1.0 75 beats 5dr |
| Price: | £11,430 |
| Engine: | 1.0-litre 3cyl, 74bhp |
| 0-60mph: | 12.2 seconds |
| Test economy: | 54.9mpg/12.1mpl |
| CO2: | 101g/km |
| Annual road tax: | £140 |
The up! is arguably the Picanto's main target. VW facelifted the car late last year but didn't alter the recipe too much, tweaking the infotainment and adding a 1.0-litre turbo to the range. However, it's the higher-powered, naturally aspirated engine that we test here in £11,430 up! beats five-door form, although our pictures show a top-spec High up!.
VW's naturally aspirated 1.0-litre three-cylinder produces 74bhp and 95Nm of torque. The former is well ahead of the Picanto's, while the latter is similar. However, longer ratios in the up! mean its performance at our test track wasn't quite as impressive in-gear.
The VW took 17.4 seconds to accelerate between 50 and 70mph in top gear, plus it trailed its rivals in the lower ratios over our 30-50mph acceleration test. But the five-speed manual gearbox meant the up! was two-tenths quicker than the Picanto in the sprint from 0-60mph, taking 12.2 seconds.
The more precise, accurate feel from the box is replicated in the steering, thanks to the superior level of grip served up by the VW's chassis. The up! is a genuinely entertaining little car to drive, and allows you to carry more speed into corners than you might imagine or than its rivals can manage.
This precision is matched by a level of refinement and composure that just shades the Picanto's. At idle the engine isn't quite as smooth as the Kia's, and it's a little noisier when revved, but drive sensibly in town and on the motorway at a cruise, and the VW is easy to get on with and more refined than the Picanto.
As with the Kia, harsh jolts do upset the VW's chassis, but that's no surprise. The up! also deals with these intrusions more adeptly and smooths out poorer surfaces more competently than the Kia at lower speeds. At higher speeds the damping feels more plush, with well controlled reactions to bumps.
Testers' notes: "If you don't need five-door practicality, a three-door is £400 less. An automated manual box is available with this engine for £600. It's the only car here with the option of a self-shifter."
Hyundai i10
| | |
| --- | --- |
| Model: | Hyundai i10 1.0 SE |
| Price: | £10,790 |
| Engine: | 1.0-litre 3cyl, 65bhp |
| 0-60mph: | 13.2 seconds |
| Test economy: | 40.1mpg/8.8mpl |
| CO2: | 108g/km |
| Annual road tax: | £140 |
The current i10 made its debut in 2013, and followed the lead of Hyundai's larger models in presenting a more upmarket image. This was backed up with improved refinement and a cabin that mixed style with space. Here we test the £10,790 1.0 SE.
When it first appeared, the current i10 impressed with its comfort, refinement and composed driving dynamics. And while newer rivals have moved the game on, the Hyundai isn't that far behind. For starters, its tried-and-tested three-cylinder engine, which is shared with the Picanto, put on a decent display at our test track. With a time of 13.2 seconds it was the slowest of our contenders from 0-60mph, but it turned the tables during our in-gear tests, where it was quicker than the VW.
Out in the real world, the Hyundai feels lively enough around town and can just about keep up with fast-flowing traffic on open roads. The engine is quite smooth, if not as refined as the similar units in its rivals here. It also feels a little breathless when extended, which means shifting up early using the slick five-speed manual is the best bet.
It's not only the engine that's intrusive in the i10, because there's also more wind and tyre roar than in the other models here. It's far from deafening, and the car is more than capable on the motorway, but the Kia and VW have the edge for cruising comfort. As with the Kia, the Hyundai can't match the up! for driver appeal. The i10 feels composed through a series of bends, with good grip and direct steering, but there's little feedback via the light controls.
On the plus side, it's easy to drive in town, while compact dimensions and good visibility make it easy to park. However, as with the Picanto, potholes and sharp ridges shudder through the structure, but in all other situations the i10 rides well.
Testers' notes: "In the UK you can only get a standard five-door i10, but in emerging markets there's the option of the i10 Grand, with a 100mm-longer wheelbase to offer supermini space inside."
Verdict
First place: Volkswagen up!
The up! takes top spot thanks to its more grown-up feel and higher-quality cabin. It offers a comparable level of practicality to the Kia, and while it's a little more expensive, the smarter finish and improved equipment spec is worth the extra. It's a packaging triumph that's great to drive and offers penny-pinching running costs. The VW delivers more of what you want from a city car.
Second place: Kia Picanto
This new Picanto is yet another clear step on for Kia. It's more mature, offers decent space, is smooth and easy to drive, if not that much fun, and looks good. It should also be cheap to buy and run. However, the VW still just has the edge when it comes to ride, handling and refinement. Despite costing less, the lower level of kit on offer means the Picanto just loses out here.
Third place: Hyundai i10
In this company the i10 feels dated, while in SE trim it's no cheaper than the Kia but has a much lower-rent look and feel inside. It's still easy to drive and seems mature on the move, but next to the smarter up! and Picanto it lacks sparkle, even if it matches its rivals for running costs. Practicality and refinement aside, it's outclassed by a pair of fresher-feeling rivals.
Other options in this category
Renault Twingo SCe 70 Play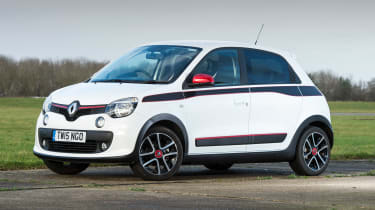 Price: £10,585Engine: 1.0-litre 3cyl, 69bhp
Five doors and a really tight turning circle make the rear-engined Renault Twingo a funky and fairly versatile city car. The naturally aspirated SCe engine isn't the sweetest, but Play trim has a competitive level of kit compared with these cars.
Skoda Citigo 1.0 75 GreenTech SE L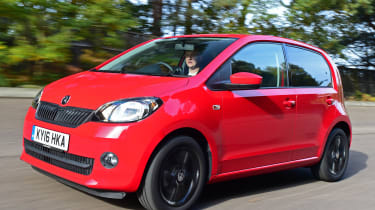 Price: £11,205Engine: 1.0-litre 3cyl, 74bhp
A similar budget will get Skoda's soon-to-be-facelifted Citigo in five-door SE L form, which has a good level of kit. Importantly, while the engine produces the same power as the up! in efficient GreenTech guise, CO2 emissions drop to 96g/km.
Figures
| | | | |
| --- | --- | --- | --- |
| | Volkswagen up! 1.0 75 beats 5dr | Kia Picanto 1.0 GDi 2 | Hyundai i10 1.0 SE |
| On-the-road price/total as tested | £11,430/£11,430 | £10,750/£11,245 | £10,790/£10,790 |
| Residual value (after 3yrs/30,000) | £4,531/39.6% | £4,050/37.7% | £5,043/46.7% |
| Depreciation | £6,899 | £6,700 | £5,747 |
| Annual tax liability std/higher rate | £426/£853 | £401/£802 | £423/£848 |
| Annual fuel cost (12k/20k miles) | £1,176/£1,959 | £1,296/£2,160 | £1,609/£2,682 |
| Ins. group/quote/road tax cost | 5/£485/£140 | 5/£482/£140 | 2/£473/£140 |
| Servicing costs | £288 (two services) | £299 (three services) | £249 (two services) |
| | | | |
| Length/wheelbase | 3,600/2,417mm | 3,595/2,400mm | 3,665/2,385mm |
| Height/width | 1,504/1,641mm | 1,485/1,595mm | 1,500/1,660mm |
| Engine | 3cyl in-line/999cc | 3cyl in-line/998cc | 3cyl in-line/998cc |
| Peak power/revs | 74/6,200 bhp/rpm | 66/5,500 bhp/rpm | 65/5,500 bhp/rpm |
| Peak torque/revs | 95/3,000 Nm/rpm | 96/3,500 Nm/rpm | 95/3,500 Nm/rpm |
| Transmission | 5-spd man/fwd | 5-spd man/fwd | 5-spd man/fwd |
| Fuel tank capacity/spare wheel | 35 litres/repair kit | 35 litres/foam | 40 litres/space-saver |
| Boot capacity (seats up/down) | 251/959 litres | 255/1,010 litres | 218/1,012 litres |
| Kerbweight/payload/towing weight | 936/469kg/N/A | 935/465/1,400kg | 933/487kg/N/A |
| Turning circle | 9.8 metres | N/A | 9.7 metres |
| Basic warranty (miles)/recovery | 3yrs (60,000)/3yrs | 7yrs (100,000)/1yr | 5yrs (unlimited)/5yrs |
| Service intervals/UK dealers | 10,000 miles (1yr)/223 | 10,000 miles (1yr)/187 | 10,000 miles (1yr)/173 |
| Driver Power manufacturer/dealer pos. | 24th/28th | 14th/9th | 30th/23rd |
| NCAP: Adult/child/ped./assist/stars | 89/80/46/86/5 (2011) | N/A | 79/80/71/56/4 (2014) |
| | | | |
| 0-60/30-70mph | 12.2/12.9 secs | 12.4/12.4 secs | 13.2/14.2 secs |
| 30-50mph in 3rd/4th | 8.1/11.5 secs | 6.3/9.5 secs | 6.4/9.8 secs |
| 50-70mph in 5th | 17.4 secs | 13.9 secs | 13.4 secs |
| Top speed/rpm at 70mph | 106mph/3,000rpm | 100mph/3,400rpm | 97mph/3,400rpm |
| Braking 70-0/60-0/30-0mph | 48.6/35.3/9.7m | 51.5/34.0/10.1m | 51.5/35.8/10.5m |
| Noise levels outside/idle/30/70mph | 63/52/64/70dB | 67/53/64/71dB | 66/53/66/73dB |
| Auto Express econ (mpg/mpl)/range | 54.9/12.1/423 miles | 49.8/11.0/383 miles | 40.1/8.8/353 miles |
| Govt urban/extra-urban/combined | 52.3/74.3/64.2mpg | 50.4/76.3/64.2mpg | 47.1/70.6/60.1mpg |
| Govt urban/extra-urban/combined | 11.5/16.3/14.1mpl | 11.1/16.8/14.1mpl | 10.4/15.5/13.2mpl |
| Actual/claimed CO2/tax bracket | 119/101g/km/19% | 131/101g/km/19% | 163/108g/km/20% |
| | | | |
| Airbags/Isofix/parking sensors/camera | Four/yes/£365^/£160 | Six/yes/no/no | Six/yes/no/no |
| Air-conditioning/leather/heated seats | £260/no/£235^^ | Yes/no/no | Yes/no/no |
| Auto box/stability/cruise control/AEB | £600/yes/£365^/£375 | No/yes/no/£350 | No/yes/yes/£275 |
| Metallic paint/xenon lights/keyless go | £515/no/no | £495/no/no | £550/no/no |
| Sat-nav/USB/DAB radio/Bluetooth | Yes/yes/yes/yes | No/yes/no/yes | No/yes/yes/yes |