Chevrolet Camaro Convertible vs Infiniti G37
Chevrolet has unleashed its muscular V8 Camaro Convertible in the UK. Is it a better buy than the V6-engined Infiniti G37?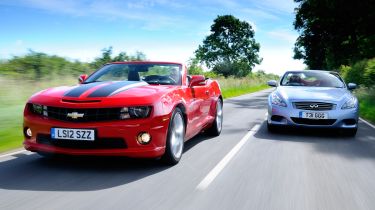 Driving into the sunset on a deserted highway or cruising along a beach front boulevard with the wind in your hair... it's easy to let your imagination run away with you when thinking about drop-top US muscle cars.
However, drive one of these charismatic machines in the UK, and our unpredictable weather and tight, twisty lanes will soon make any dreams of Route 66 evaporate.
That's something Chevrolet is hoping to change with the Camaro. It's currently the best-selling sports car in the US, ahead of its arch rival, the Ford Mustang. And now Chevy has decided to officially import the car to the UK.
It's been modified for the European market, but is still left-hand drive, and the Camaro gives you a big V8 engine and head-turning looks for just over £40,000.
Facing the newcomer is the similarly priced Infiniti G37 Convertible. It's also popular on the other side of the Atlantic, and the V6-powered cabrio offers comparable performance and a folding hard-top. So which of these big convertibles will have its moment in the sun?
The Camaro is flawed but hugely likeable, and with just 200 cars coming to the UK, it's guaranteed to be exclusive. If you want supercar levels of attention for half the outlay, then it's the car for you. It trails Europe's best for driving dynamics, but is still fun. Dreadful economy, a flimsy roof and a relatively disappointing cabin are the downsides, but if you can live with these flaws, the Chevy will always entertain.
2nd: Infiniti G37 Convertible ★★
A disappointing driving experience, dubious looks and a cramped and old-fashioned interior all count against the G37. It's hard to see Infiniti luring customers away from mainstream rivals, and the car doesn't have anywhere near enough charm to be an alternative choice. And while it has the performance to match the Chevrolet, this isn't enough to prevent it taking the wooden spoon in this encounter.