Shelby Mustang vs. Chevy Camaro
It's Ford's most muscular Mustang ever – but does the all-new Shelby GT500 serve up a bigger slice of the American dream than Chevrolet's latest Camaro?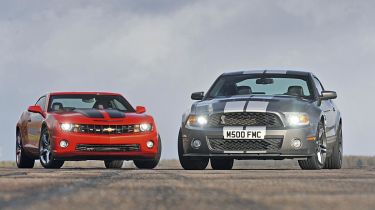 Welcome to a US battle that's been raging for more than 40 years.
The Ford Mustang and Chevrolet Camaro have been locked in a fierce fight for honours in the muscle car class since the late Sixties. Fast, brutish and uncomplicated, they delivered supercar performance for the man on Main Street, US.
On this side of the Atlantic, these big and thirsty machines have been largely ignored. But with eye-catching retro-inspired exterior styling and the promise of sophisticated chassis set-ups, the latest Mustang and Camaro are ready to lure British drivers out of their BMWs and Audis. In the blue oval corner is the latest range-topping Shelby Mustang GT500. Packing a thumping 540bhp 5.4-litre V8 engine, tweaked chassis and revised looks, the original 'pony car' has the European sporting elite firmly in its sights.
But before it can stake its claim on this side of the pond, it has to beat its opponent in red: Chevrolet's latest Camaro.
With mean and moody looks, as well as a mammoth 6.2-litre V8, the newcomer clearly follows the tried and tested muscle car template. However, under the old-school body is an up-to-date chassis comprising modern multi-link suspension. And while the 400bhp car has less power than the Mustang, it's much cheaper.
Specialist importers – such as Bauer Millett and American Car Imports – have made getting hold of one of these incredible machines in this country easier than ever. So, which one of our contenders will deliver the knock-out punch in this bruising encounter? Seconds out...
Verdict
Fans of American muscle cars will love both of our contenders. So will drivers who want to get noticed – as the bold, brash and loud Mustang and Camaro never fail to grab attention.
But buyers expecting the sharp dynamics and sophistication of a similarly priced BMW 3-Series or Audi A5 will be disappointed. It's also worth noting that the Mustang and Camaro are available only in left-hand drive. Look past these issues, though, and you'll find character by the truck load. So which is better?
For sheer fun, the Mustang is hard to beat. Yet it's expensive, at £52,000, and owners will soon grow tired of its limited refinement.
So the Camaro takes victory. It's even more eye-catching than the Ford, cheaper and has more grown-up handling. Add in the rumbling V8 soundtrack, and the Chevy is a fine choice for brave buyers wanting something different.