"Citroen has shaken up the electric car market like no brand before"
At around £6k the Citroen Ami is the most significant EV breakthrough moment for Brit consumers, says Mike Rutherford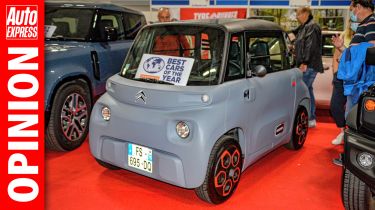 How's this for a run of events? Last winter, the Citroen Ami wins its first major trophy: World Vehicle of the Year. By early summer it's got the Auto Express Technology Award. Then, in August at the British Motor Show, car nuts queued to see the most talked about and photographed vehicle there.
A few weeks later came the happiest story of the year: Citroen will sell the Ami in the UK. It's expected to have a cash price of about £6,000. Plus, the firm told me that although mobile phone-like, circa-£40-a-month contracts may be offered here as in France, such deals require deposits of a grand or three. Low or no-deposit contracts appeal more to Brits, even if this means payments of nearer £80 a month. Either way, this car at these prices is the most significant EV breakthrough moment ever for Brit consumers.
We never did have the cash, or hunger, for the worthy but ugly original Nissan Leaf launched at £30,000 a decade ago. A few years later the smaller, prettier VW e-up! at nearly £24,000 (almost twice as much as the basic version) also failed to hit the spot. And although today's mid-sized pure-electric family cars from firms such as Hyundai, Kia and Skoda are credible, some of 'em carry £50,000 price tags. Ouch!
Though very different, the stripped-out Ami's imminent arrival in the UK means long-overdue change (and then some) for pure-EV accessibility and affordability. Bucking the tradition of EVs being almost twice the price of their ICE equivalents, the new-tech Ami is poised to start a price revolution by wading in as THE least expensive new vehicle on the market, period.
Even its old-tech sisters, the petrol Citroen C1 and Peugeot 108 (bigger four-seaters) will be more than double the price of the two-pew Ami. Another mind-blowing fact is that the price of the Smart EQ fortwo is three times higher than the Ami's, despite both being two-seat EVs of similar size. Hopefully those Smart retail prices will tumble and align more closely with those of the less powerful, slower, cuter Ami. Even the more bike-like Renault Twizy at £12,000 seems horribly expensive next to the Ami, which looks and feels much more like a real car, albeit a slow one that's officially a quadricycle.
A couple of changes I'd like to see before Ami sales start are tasteful '28MPH MAX SPEED' stickers to warn motorists behind that even if an Ami driver has the pedal to the metal, it still can't reach 30mph. Time for Citroen to tweak it to do so by 2022? Hope so.
Also, I hope that, further ahead, Citroen will move the steering wheel to the centre. This will have advantages in terms of safety, driving pleasure, and overall balance. Plus, two passengers could then sit either side, if slightly behind, the driver. That's something for Citroen's sister brands, Peugeot, Fiat, Jeep and Vauxhall, to think about since they (like Opel) will get access to the Ami's design, tech, factory, future mods and economies of scale.
Tragically for fierce-rival firms not part of Stellantis, they do not. Apart from panicking, what the hell are they going to do now? Citroen has torn up the rule book, changed the game, declared a price war, and shaken up the EV market like no brand before. I'm loving it.
Click here for our list of the cheapest cars on sale in the UK...