Citroen C5 vs Skoda Superb
Are you brave enough to choose the quirky Citroen C5? We test the facelifted model against the Skoda Superb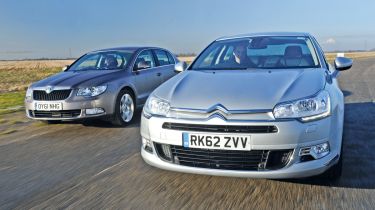 Being different isn't easy – you only have to look at the Citroen C5 for proof of that. It's the latest in a long line of technologically advanced yet slightly quirky family cars from the French company, but has failed to find favour with UK buyers since making its debut in 2008. In fact, in the last year, a mere 1,500 C5s have found homes on this side of the Channel.
In an effort to revive the car's fortunes, Citroen has given its big saloon a mid-life refresh, which includes tweaked looks and trim, plus a new sat-nav set-up. There's also a revised all-diesel engine line-up, and we test the 197bhp 2.2-litre HDi in Exclusive trim. Not only is this the top-of-the-range model, it's also the only version to get the company's trademark hydropneumatic suspension.
Squaring up to the Citroen is the Skoda Superb, which is one of our current class favourites. It's spacious, versatile and good to drive, and a fine all-round choice.
So, should you dare to be different with the Citroen, or will you be better off with the sensible Skoda? We find out...
Verdict
It was always going to be a tall order for the Citroen to overcome the brilliant Skoda Superb. The recent changes have helped keep the C5 looking fresh, but ultimately this subtle facelift isn't enough to propel the car to the top of the class.
The cabin is cramped and a little dated compared to the Skoda's, there's not as much standard kit and the shockingly bad residuals mean you'd almost be better off setting fire to your money. Still, that's not to say the Citroen doesn't have its charms.
It looks great and boasts the sort of refinement you'd normally associate with a luxurious limousine. But it's the Hydractive suspension that's the star turn, as it delivers an uncannily smooth ride.
The Superb can't match the C5 for comfort and style, but it has it soundly beaten in almost every other respect, from its huge and well equipped interior to its engaging driving experience. Factor in the versatile TwinDoor tailgate and stronger fuel economy, and the Skoda is still our top family choice.
Yet it's not all good news, as high CO2 emissions make the Superb a costly company car choice. We'd choose the Elegance model, which has almost the same amount of desirable kit, yet costs less.