Triumph TR7: Buying guide and review (1975-1981)
A full buyer's guide for the Triumph TR7 (1975-1981) including specs, common problems and model history...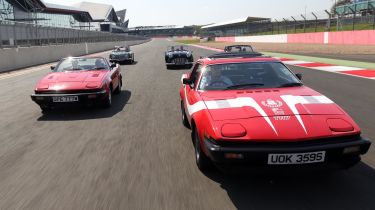 Sometimes, perception and reality can be so far removed it's untrue. There's no shortage of classics that have a terrible reputation, which is undeserved for whatever reasons, but at the top of the list must surely be the Triumph TR7. Is this the most maligned car ever made?  
It's looks were not universally loved – or even particularly liked – but there must surely be more to the car's poor reputation? Early cars were plagued with build quality issues, and coupled with the problems with British Leyland, it never really stood a chance.
The four-cylinder engine was a bit of disappointment for Triumph customers coming from its straight-six powered predecessor, and to begin with only the coupe was on offer. But as time went on, Triumph actually sorted out most of the TR7's problems, while other shortcomings can be brought up to date with modern upgrades.
Later TR7s are undeniably better built, and from 1979 there was also a convertible; these open-topped cars are more fun than their closed counterparts, but any decent TR7 represents spectacular value for money. That's not to say that the wedgy TR7 coupe doesn't have its fans, and there are many who find the undeniably 1970s classic a great thing to drive around at the weekend.
Styled by Harris Mann, British Leyland's Chief Designer at the time, it was an extremely radical move away from the very conservative and old fashioned Triumphs of old. 
The TR7 isn't quick in standard form, but it's comfortable, refined and feels surprisingly modern to drive. A few sympathetic mods can make things even better though. Well supported by clubs and specialists, parts availability is excellent, and virtually all maintenance is possible on a DIY basis.  
Which Triumph TR7 to buy?  
With the right engine, brake and suspension upgrades – and they needn't be costly – the TR7 can be made to go, stop and handle quite brilliantly. However, if you're buying a TR7 already converted to V8 power, make sure it's not a home-built job. Properly engineered kits are available from S&S Preparations, Robsport and Rimmers, so ask where the parts came from.  
Some cars have had a Sprint engine conversion, which gives the car a completely different character. The switch to Rover V8 power unlocks significant cruising ability, but the 16v can make for a sweeter handling car. Tuning opportunities for the 16-valve unit are limited though, and it needs to be worked hard to get the best out of it.  
The TR7 is easily the most affordable of all the TRs, yet it's arguably the most usable thanks to its more modern design and construction. However, neglected cars, bodged repairs and restorations are rife, so you have to buy with care. Track down a good TR7 and you'll soon see that the car's reputation is largely undeserved, and if you buy one that's had the right upgrades, you'll soon be converted. Unless you hate the looks of course...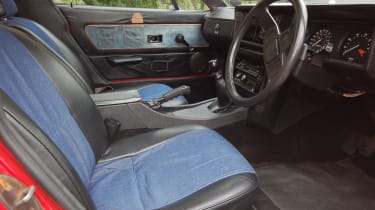 It might not instantly spring to mind as a great competition car, but the TR7 is actually a reasonably popular choice for historic rallying. A number of Works cars were rallied in period, but many more have since been built. Building your own from scratch is possible due to the excellent parts availability, but keeping your eyes open for a ready-built car will certainly be the cheapest option. Rover V8 power means that tuning possibilities are endless, and the the chassis can be made to handle the power quite easily.  
Triumph TR7 performance and specs  
Model
Triumph TR7 V8
Engine
3528cc, V8 OHV
Power
133bhp @ 5000rpm
Torque
174lb ft @ 3000rpm
Top speed
135mph
0-60mph
7.7sec
Fuel consumption
21mpg
Gearbox
Five-speed manual
Dimensions and weight
Wheelbase
2160mm
Length
4067mm
Width
1681mm
Height
1267mm
Kerb weight
1000kg
Triumph TR7 common problems 
• Rust: lots of TR7s have been crushed because of their structural integrity being compromised through rot. Check everywhere, starting with the nose panel and working back. Bonnets rot (especially post-1979 cars with the double hump), and MacPherson strut turrets 
Partnership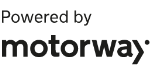 Need to sell your car?
Find your best offer from over 5,000+ dealers. It's that easy.
• Scuttle panel: the scuttle panel can rust particularly badly, especially if the car has had an unsympathetic windscreen replacement at any point in the last 15 years.  
• Panel fit: have a look at the car in good lighting conditions. Most will have had replacement body panels by now, so you're looking for a good fit. Front wings and doors are prone to rust, but their bolt-on nature means replacement isn't a huge job. 
• Sills: rot in the sills is also common, and if the corrosion has spread it can often mean the end of the road for a TR7. Because the sills provide most of the car's strength, they must be properly repaired, so if any repair work is recent, use a magnet to determine whether the sill is hiding any filler. 
• More rust: the rear wheelarches, front subframes and the mounting points for the rear trailing arms should also be inspected for signs of rust. The best solution is to get the car up on a ramp, as it can be difficult to get a good look at everything when the car is on the ground.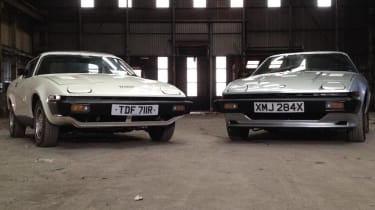 • Headlamps: the headlamp pods are alloy, which causes paint adhesion problems, but the motors are usually reliable – any issues are normally down to faulty wiring. Re-painting the pods is the only way to cure any aluminium corrosion, and must be done using an etch primer if you finish is to last. 
• Front bumper: if the front bumpers are hanging down at the corners, it's because the bonded-on rubber mountings have failed. A proper fix is neither tricky nor costly.  
• Engines: all TR7s came with a 1998cc four-cylinder engine, but many have since been swapped for a Rover V8. Both engines have an alloy top end, so anti-freeze levels must be maintained – the V8's block is also aluminium, while the four-pot bottom end is cast-iron.  
• Timing chain: if maintained properly, the standard four-cylinder TR7 powerplant will notch up 100,000 miles; for this the timing chain needs to be replaced every 40,000 miles and the oil should be changed every 3000 miles.  
• Water pump: the TR7's water pump is leak-prone and awkward to replace, so check for leaks and low coolant levels. Pumps should be replaced rather than refurbished. Overheating can be caused by a blocked-up radiator or a weak/failed viscous fan; replacements aren't costly.  
• Head gasket: if the head gasket has gone, replacing it is a pain as the retaining studs are angled, so separating the head from the block becomes a battle of wits.  
• Transmission: some early TR7s have a four-speed gearbox, but from 1978 a Rover SD1-sourced five-speeder was standard – it was optional before this. The five-ratio box is much stronger than the four-speed, and it also features a usefully high top gear ratio, which makes cruising much more relaxed and helps fuel economy.  
• Synchro: the first thing to go on both boxes is second and third gear synchro. If there's any baulking, replacement will soon be necessary, although second gear tends to be quite notchy even when the box is in good nick.  
• Steering: something that's become popular is a roller bearing top strut mount conversion for the front suspension. This makes the steering significantly lighter (it replaces steel turning in rubber), but it's also possible to convert to electric power steering.  
• Brakes: the brakes are poor, so upgrades are desirable. On standard cars, the easiest option is to upgrade the front brakes with fresh callipers and vented discs, as these fit under the standard 13-inch wheels. If you have the car in the air, take some time to inspect the brake lines. If they haven't been upgraded to copper items, then they might be in need of replacement any time soon.  
• Discs: with V8 power it's possible to fit an all-disc system, which involves fitting a replacement rear axle (with limited-slip), but this requires the fitment of bigger (14-inch) wheels, to clear the callipers. Some people fit wheels from the much newer MG F and TF.  
Triumph TR7 model history  
1975: Speke-built TR7 debuts in the US, with twin Strombergs. 
1976: TR7 on sale in UK, with twin SUs, optional five-speed manual or three-speed auto. 
1977: Run of 60 or so TR7 Sprint experimental cars is built.
1978: Five-speed gearbox now standard, production moves to Canley, TR7 V8 homologated for motorsport. 
1979: TR7 convertible on sale in US, alongside TR8 coupé and convertible. TR8 coupé dies soon after. 
1980: TR7 convertible reaches UK showrooms: just 20 or so RHD cars are built though. TR7 production moves to Solihull. 
1981: US cars get Bosch L-Jetronic injection. TR7 and TR8 production ends.  
Owners clubs, forums and websites  
• club.triumph.org.uk • www.trdrivers.com • www.tr-register.co.uk • www.tssc.org.uk 
Triumph TR7 summary and prices 
You can pick up one of the best coupes for £4000, with usable cars coming in at £1500-£3000. Projects can still be picked up from around £700. Roughly add about a £500-£1000 premium for the convertible. 
Genuine TR8 models are significantly more expensive, and although most were left-hand drive models sold in the US, expect to pay £7000-£10,000. You'll pay significantly more for one of the very few UK cars. A professionally-converted TR7 V8 is much better value though. 
For a rally car, expect to pay around £30,000 for a well used example in running order, with something in fresh condition upwards of £45,000. Works rally cars are rare, and valued on a case-by-case basis.
Thinking of buying a future classic? Then take a look at these potential future classics...