UK electric car prices are double those in China
Widening price gap between prices of new EVs in China and the West leaves UK consumers increasingly out of pocket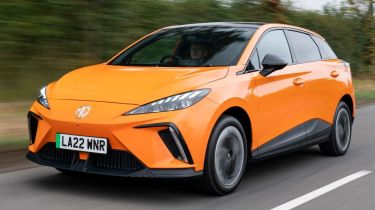 Consumers in the UK are being asked to pay an average price for new electric cars that's now more than double the average price of a new EV in China, according to a report from global automotive data experts JATO Dynamics.
As latest figures from the Society of Motor Manufacturers and Traders show that new EV registrations in the UK are faltering – down to 15.6 per cent of market share in October, from 20 per cent earlier in the year – JATO's report points to the widening gap between prices asked here in the UK and China. The report indicates that the average retail price of new electric cars on sale in China is now less than half the average price in Europe, at circa £27,153 compared to £58,256. Here in the UK the average asking price is even higher, at almost £62,000.
While European car makers have been focusing on expensive premium models to support their profits, which explains the high price of EVs over here, JATO also produces evidence to support the notion that China's EVs aren't competing simply on price, but on quality and power too. It says BYD's Seal saloon with 204bhp in Elite Trim costs the equivalent of £21,003 in China, while pointing to the 81bhp Renault Twingo at circa £21,190 as the closest European rival on price. Here in the UK the Seal is expected to retail from around £44,000 when it arrives in 308bhp guise soon.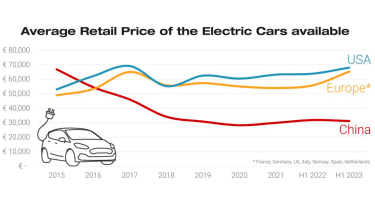 According to JATO's analysis, European consumers who wanted to buy the cheapest EV in the first half of this year had to pay 92 per cent more than for the cheapest available combustion car. In contrast, it says, Chinese consumers could buy an electric car that cost eight per cent less than the cheapest combustion model.
The report also provides an illustration for European car makers on how their focus on profitability over volume has left an opening for competitors from China. JATO calculates the average price of the Chinese MG 3 compact electric hatchback in Europe in the first half of 2023 was £30,600, while average prices for the equivalent Renault Megane E-Tech and VW ID.3 were close to £40,000.
The analysis also shows that of the 235 different battery-electric vehicles sold in China, only 54 (23 per cent) were priced at over £35,000. Here in Europe, meanwhile, there are 135 EV models available, of which 104 (77 per cent) cost more than £35,000. 
Why is China able to compete so effectively in the EV volume sector? JATO points to three significant factors, which include an estimated £57bn handed out in incentives to Chinese EV makers by state authorities in recent years, strong local market consumer incentives and tax breaks, and the much lower cost of labour in China compared with Europe and the US.
Searching for an all-electric bargain? These are the cheapest Electric cars on sale in the UK...