Dacia Duster- best crossovers and small SUVs
The updated Dacia Duster retains its bargain-basement price, but can still hold its own against significantly more expensive SUVs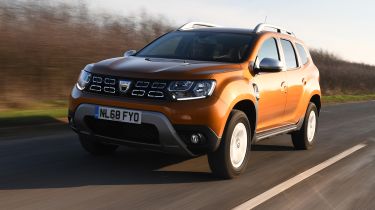 It's no secret SUVs are in fashion. Most car manufacturers have an SUV in their line-up and the rise of the high-riding body shape looks set to continue. 
SUVs are associated with being expensive, but with the Dacia Duster that's not the case. In fact, with prices starting from just £9,995 the Duster is one of the cheapest cars (let alone SUVs) you can buy.
For a supermini price-tag you can have a family car with some serious off-road potential. There's also nothing at the Duster's price-point which will challenge its sheer spaciousness and practicality.
The reason Dacia are able to sell the Duster so cheap is because it's based on a decade-old Renault chassis and the interior isn't what you'd call lavish. But if you can look past these understandable foibles and the undesirable badge, the Duster is a well-rounded family SUV available at a bargain cost.
Top 10 best crossovers and small SUVs to buy now