Toyota RAV4 - best crossovers and small SUVs
The Toyota RAV4 arguably kicked off the family SUV craze in the early 1990's and the latest generation is just as good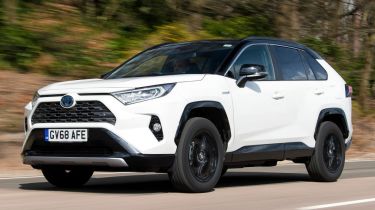 First off, the engine. UK buyers will only be able to get a petrol-electric hybrid, although traditional combustion-engined layouts are available in other markets. 
This is no bad thing though, the 2.5-litre 4-cylinder hybrid is offered up in two layouts - front-wheel drive with 215bhp or four-wheel drive with 219bhp. We'd pick the four-wheel drive option, which at a £2,240 premium, gets you a second electric motor driving the rear wheels. 
The RAV4's ride has clearly been developed for comfort over sportiness, but unfortunately the CVT gearbox makes the engine rev up too highly and can sound quite aggressive - which can upset the otherwise refined driving experience. 
There's a decent amount of space with the RAV4's 580-litre boot, but it just loses out to the Volkswagen Tiguan's 615-litre boot. With the seats folded flat you get 1,690 litres.
The bold styling means you won't lose your RAV4 among the growing army of forgettable-looking SUVs. The interior finish is more functional than luxurious, but it feels solid and well-built. While there's plenty of equipment on offer, the infotainment isn't the best to use and there's no Android Auto or Apple CarPlay integration. 
This latest RAV4 has more competitors than ever and at around £35k it's priced between cheaper 'crossover' models like the Peugeot 3008 and more premium SUVs like the Volvo XC60.
Top 10 best crossovers and small SUVs to buy now