Skoda Karoq - best crossovers and small SUVs
The Karoq continues its reign at the top of the crossover class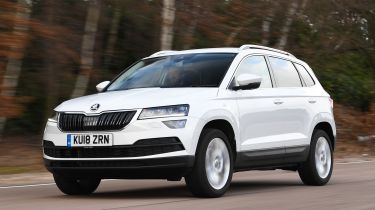 The Yeti may have died out, but the Skoda Karoq has plenty going for it to make Skoda's first crossover a distant memory. And that's why it's our favourite crossover. However, while the Yeti name has gone, that car's practicality and user-friendliness lives on in the Karoq.
There's plenty of space inside for passengers and luggage, including sliding VarioFlex rear seats that can favour one over the other. But where the Karoq really stands out from its predecessor is the quality of the interior. There are also lots of of high-grade materials and soft-touch plastics, while top-spec cars can rival the VW Tiguan for classy appeal.
The Karoq is based on the same platform as the Tiguan, but it wears a look that's inspired by Skoda's larger Kodiaq. That means you get a large grille and slender lights for an imposing face, while plenty of straight edges make up the rest of this crossover's design.
Engines are plucked from the VW Group range, with turbocharged 1.0 and 1.5 TSI petrol and 1.6 and 2.0 TDI diesel engines, while four-wheel drive is offered on top-spec cars. We'd only recommend 4WD if you live in the wilds, because the greater efficiency and lower cost of the front-wheel drive versions mean these are the ones to go for.
On the road, the Karoq is a great crossover to drive, with handling that is surprisingly capable for a high-riding crossover. There's decent comfort, too, with a refined ride and quiet cabin when cruising.
Top 10 best crossovers and small SUVs to buy now