Volkswagen T-Cross - best crossovers and small SUVs
Volkswagen's T-Cross might not be available with four-wheel drive, but that doesn't mean you should discount it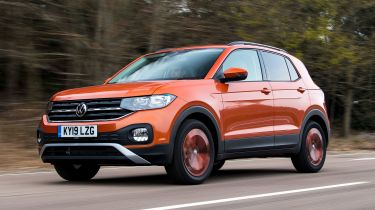 The VW T-Cross is based on the Polo hatchback and makes use of the same engines and transmissions. While the driving dynamics are worsened by the higher centre of gravity, there's plenty of grip and decent balance - although the steering is fairly lifeless. The ride is comfortable too, as long as you avoid the 18-inch rims.
There are only two engines available, a 95bhp 1.0-litre TSI petrol and a 115bhp 1.6-litre TDI diesel. The petrol is only offered with a five-speed manual gearbox where the diesel comes with either a six-speed manual or seven-speed dual-clutch automatic.
Even with the lesser-powered petrol version, the T-Cross has adequate acceleration. The diesel paired with the six-speed manual would be our choice however as it conjures up more power throughout the rev range.
Inside, the T-Cross feels well-made and offers typical Volkswagen functionality along with class-leading technology.
Top 10 best crossovers and small SUVs to buy now