Hydrogen fuel cells: do hydrogen cars have a future?
With sales of electric vehicles increasing, do hydrogen fuel cell cars have a future on our roads?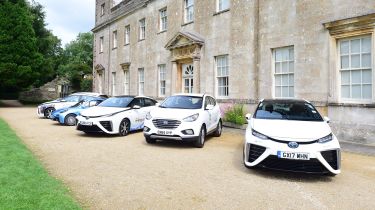 While battery-electric cars are seeing rapidly growing sales and are widely seen as the future of emissions free motoring, hydrogen cars are still somewhat overlooked. While there are hydrogen-powered cars available for sale in the UK, very few people are currently buying or even considering them. So do hydrogen fuel cell vehicles really have a future?
Car makers have been experimenting with hydrogen fuel cell technology for a number of years, trying to crack the formula for using the most abundant resource in the universe to power cars. While progress has been made, it has been very slow compared to that of battery electric vehicles.
At the time of writing, there are only two mainstream hydrogen-powered cars on sale: the Toyota Mirai and Hyundai Nexo. There are more hydrogen-powered cars and vans confirmed to be on the way, though, with brands such as BMW, Land Rover and Vauxhall all planning new models within the next five years.
Because refilling a hydrogen car is very similar to filling up with petrol or diesel, it is also almost as quick - it takes around 5 minutes to fill a tank. This is undoubtedly an advantage over the long waiting times when charging an electric car.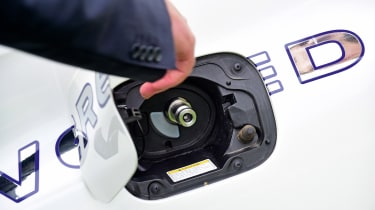 However, One of the biggest reasons for the slow uptake of hydrogen vehicles is the existing infrastructure. According to UK H2 Mobility, there are currently 11 hydrogen stations open in the UK. This is obviously far less than the amount of petrol stations and public EV charge points but more hydrogen filling stations are planned. For now, though, not having a filling station nearby is clearly impractical for many people.
This, along with several other production hurdles are apparently being overcome, though, and there is still a real chance that hydrogen could find itself as a much more prominent fuel in the near future.
How do hydrogen cars work?
One of the arguments that's sometimes made against hydrogen vehicles is that they're less efficient than EVs. Because hydrogen doesn't occur naturally, it has to be extracted, then compressed in fuel tanks. It then has to mix with oxygen in a fuel cell stack to create electricity to power the car's motors. Cynics point to the efficiency loss in this process when compared with an electric car in which the electricity comes straight from a battery pack charged from the mains.
That's true to an extent, but hydrogen-powered cars are not really expected to replace EVs. Instead, hydrogen is intended to complement pure electric power, and there's a good reason for this: it is the cleanest fuel possible.
Lithium-ion battery production for electric cars is very energy-intensive, with Lithium mining emitting several tonnes of CO2. If you take this into account along with charging the battery from anything other than a zero-emission source throughout its lifetime, an electric car still contributes towards a certain amount of CO2 emission - even if this does not originate from an exhaust.
Of course, if an EV battery is produced using responsibly sourced materials and renewable energy, this helps to lower these overall emissions further.
In comparison, today's hydrogen cars have life-cycle emissions that are at least as low as that of EVS. A recent study found a hydrogen car emits around 120g/km of CO2 over its lifetime, but this can be brought down significantly further when hydrogen is produced from renewables.
A common method of hydrogen production involves separating it from natural gas, using a process called steam methane reformation. Work is also underway to obtain hydrogen from biomass, which would significantly cut the life-cycle emissions from hydrogen to around 60g/km CO2. This is below the level that EVs will achieve, even when electricity is sourced from renewable sources, because of the environmental costs of battery production.
What's the future for hydrogen cars?
For truly sustainable mobility, hydrogen is a fuel that cannot be ignored. It is also regarded as a potential alternative for fuelling HGVs, where electric trucks are hampered by battery capacity and having to recharge using the power grid. The biggest downside, though, is that developing a full hydrogen refuelling infrastructure, where the gas is produced and then transported to stations, will take billions of pounds and a number of years to develop.
The key to encouraging hydrogen vehicles is by making them part of a wider 'hydrogen economy' – building refuelling stations for hydrogen cars alone would be inefficient. Instead, ideally, the whole energy sector would incorporate hydrogen into the mix, from refuelling cars to storing energy for homes.
Another benefit of hydrogen is that it can potentially be produced on site rather than being transported like fuel, or supplied through the grid like electricity.
But even with hydrogen infrastructure in place, be it local or nationwide, hydrogen vehicles still face the issue of costs. The Toyota Mirai retails from upwards of £54,000. That is a lot to pay for any car, but, as with electric cars, as the technology improves and becomes more mainstream, prices should start to fall.
There are still a lot of 'ifs' about hydrogen, but there are far fewer today than there were a decade ago.
Hydrogen isn't the only alternative to electric power, click here to find out more about synthetic fuels.