Ferrari 458 Speciale Spider spotted testing
Convertible version of Ferrari's hardcore 458 Speciale spin-off in the pipeline, could debut at the Paris Motor Show
From the front this could easily be the Ferrari 458 Speciale, but take a closer look and it's clear there's more to this test mule than first meets the eye. Caught by our spy photographers outside Ferrari's Maranello headquarters, the prototype features a strikingly similar roofline to the 458 Spider, suggesting a convertible Speciale is on the horizon.
It could debut at the Paris Motor Show in October, possibly alongside the new 458M turbo variant we spotted last week, before going on sale in 2015. Like the standard 458 Speciale, Ferrari has fitted this as-yet-unnamed and unconfirmed Spider with a more aggressive F1-style chin spoiler (mimicked round the back by the upper bumper layout), plus a larger rear spoiler and two exhausts.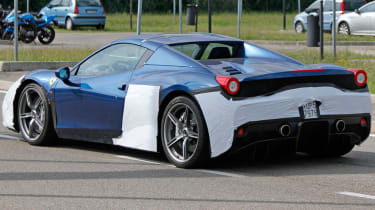 Through the thin, badly wrapped fabric disguise, we can also make out a pair of distinctive turning vanes ahead the front wheels, the Speciale's signature bonnet indent and, although barely noticeable, the same shark-like fins down each flank.
Aside from a slight increase in kerbweight – most likely in the region of 45kg – due to its retractable roof mechanics, the 458 Speciale Spider should take its underpinnings straight from the coupe. Powering the rear wheels will therefore be Ferrari's naturally-aspirated 597bhp 4.5-litre V8, with 0-62mph taking approximately 3 seconds.
While there's currently no word on price, Ferrari charges approximately £20,000 more for the 458 Spider over the Italia, so a similar premium for the convertible 458 Speciale would see it start from around £230,000. We'll keep you posted as more details emerge.
Find out about the other great new cars we're expecting to see at the Paris Motor Show 2014