Fiat 500L vs rivals
The Fiat 500 city car has grown into a family car. So how will the new 500L fare against the MINI Countryman and Nissan Qashqai?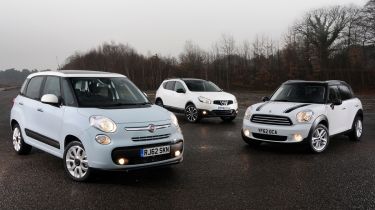 Fiat struck gold with its retro revival of the 500, and the company is now aiming to recreate that success by launching a family of models based on its cute city car.
The first of these to arrive in the UK is the super-sized 500L. It's roughly the same size as most supermini-MPVs and crossovers, but Fiat hopes to bring a little bit of Italian flair and style to a class that's usually associated with space and functionality.
To achieve this, the 500L has the same wide range of colours and trim as the city car, so you can personalise it to your taste. The top-spec Lounge model we're testing here gets luxurious standard equipment like a huge panoramic glass roof, a touchscreen Bluetooth radio and soft suede dashboard.
That puts the 500L in direct competition with upmarket family cars like the MINI Countryman and Nissan Qashqai. The MINI has proven hugely popular since launch and is a perfect example of how to squeeze the character of a small car into a bigger body.
The Nissan, meanwhile, is the original family crossover. All three are powered by efficient 1.6-litre diesels and they're priced within a few hundred pounds of each other – so this test should be very close.
Verdict
While they have similar performance and prices, in reality our three contenders are very different propositions as family cars.
The MINI and the Fiat are designed to give you the feel-good factor and charm of their smaller relatives, while the Nissan is a more functional and conventional crossover. And despite an impressive engine, the Qashqai is the first to fall. At this price, it comes poorly equipped and its ageing interior is simplynot in the same league as its two rivals'.
Splitting the Countryman and the 500L is a good deal harder. The Fiat is definitely the most practical car here, with a high level of standard equipment and a very flexible interior that make it a capable family choice.
However, the Countryman's more resolved styling, superior fuel economy and rewarding driving dynamics are decisive, and just give it the edge. Affordable servicing and excellent residual values are the icing on the cake.