Fiat emissions probe: FCA faces US lawsuit
US authorities have filed a civil lawsuit claiming the carmaker used software to manipulate emissions in 104,000 cars sold in the US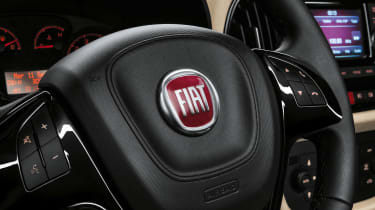 Fiat Chrysler Automotive will face a lawsuit from the US Government over emissions tampering in 104,000 diesel cars, according to reports. The Italian-American carmaker is said to have used software to control and manipulate its emissions, but the US authorities have stopped short of accusing it of deliberately cheating in emissions tests.
The civil suit could result in a maximum fine of up to $45,268 (£34,888) for each affected car sold after November 2015 and $37,500 (£28,901) for those sold before. Fiat has denied it deliberately cheated in emissions tests.
According to the Financial Times, the lawsuit alleges that Fiat Chrysler failed to inform the US authorities of "defeat devices" and other emissions controls for diesel versions of the Dodge Ram trucks and Jeep Grand Cherokee SUVs sold in the US between 2014 and 2016.
In a statement, the US Environmental Protection Agency - the same agency that caught Volkswagen cheating in emissions testing, said: "This results in cars that meet emissions standards in the laboratory during standard EPA testing, but certain normal on-road driving emit oxides of nitrogen (NOx) that are much higher than the EPA-compliant level."
Fiat said that it was "disappointed that the DoJ-ENRD (Environment and Natural Resources Division) has chosen to file this lawsuit. The company intends to defend itself vigorously particularly against any claims that the company engaged in any deliberate scheme to install defeat devices to cheat US emissions tests."
The EPA has said its in negotiations with FCA and working towards reaching a settlement, stating: "the nature and timing of any resolution of this issue are uncertain."
FCA vehicles allowed to skip key emissions tests
Fiat Chrysler vehicles were allowed to skip key emissions tests during Italy's probe into emissions-cheating software, according to a report earlier in 2017.
According to an unpublished Italian transport ministry report, seen by news agency Reuters, Fiat Chrysler Automobiles (FCA) vehicles were allowed to skip key tests by the Italian authorities that would have highlighted whether the manufacturer was cheating in emissions tests.
The new report found seven FCA vehicles lacked data for tests that adjust the EU lab regime to reflect urban driving styles. Three vehicles, the Jeep Cherokee 2.0, Alfa Romeo Giulietta 1.6 and the Chrysler Ypsilon 1.3, had no figures for an on-road measurement phase.
A further three were found to have skipped protocols that have previously been used to find emissions cheating software. No explanation was given why the vehicles weren't tested properly.
The company is also facing questions from European authorities. In a letter seen by Reuters, German ministers have informed the European Commission that tests on the Fiat 500X, Fiat Doblo and Jeep Renegade could prove an illegal device was used to switch off exhaust treatment systems.
The KBA has since asked the European Commission to investigate the carmaker, while the manufacturer has also been referred to the French prosecutors over its potential emissions cheating.
The FCA Group has so far disputed all claims that the software on board that allows its vehicles to control emissions is illegal and similar to the one at the centre of the Volkswagen dieselgate emissions scandal.
• VW emissions scandal: everything you need to know
Julia Poliscanova, clean vehicles manager at campaign group Transport & Environment said: "At the heart of the Dieselgate scandal in Europe lies the testing system that today is shrouded in secrecy and cronyism. It's high time to demand Europe's testing authorities put public health above economic interests of national car champions.
Will Fiat be the next carmaker found guilty of emissions tampering? Tell us what you think in the comments section below...