Fiat Panda 4x4 vs Suzuki Jimny
The Panda 4x4 builds on the baby Fiat's proven blend of rugged ability and low costs. Can it beat the Suzuki Jimny?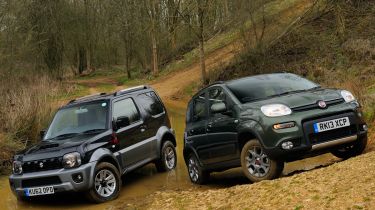 Ever since the original Fiat Panda was introduced in 1980, a 4x4 version has been included in the line-up. And while the old model was no more than a standard car with raised ride height and four-wheel drive, when the revived Panda was launched in 2003, the off-road version was given chunky styling to help it stand out.
Now in its third generation, the Panda 4x4 is available with petrol or diesel power, and with prices starting at £13,950 for the TwinAir petrol, it's one of the cheapest off-roaders on the market. So for its first test, we've lined up an established 4x4 that proves cheap doesn't mean incapable – the Suzuki Jimny. This rugged off-roader has been around for 15 years, but has recently been updated. We try the top-spec £13,295 SZ4 model, which undercuts the Panda 4x4 by £655.
Our test will decide which offers the better combination of on-road ability and off-road prowess to crown the king of the mini off-roaders.
Verdict
These cars are closely matched on price, but there's more than a decade's worth of development between them, and the differences are clear for anyone to see.
The Suzuki Jimny is a massively capable 4x4. No other new car in this price range can match its off-road talents – indeed, few cars at any price can follow it off the beaten track. A ladder chassis, low-range four-wheel-drive system and long suspension travel mean it's virtually unstoppable.
But this ability comes at a price: the Jimny is hobbled by poor on-road performance. Short gearing, a wheezy engine and bouncy ride turn anything longer than a brief trip into a test of endurance, while the cabin is dated and cramped.
That leaves the way open for the Fiat Panda 4x4 to snatch victory. It's not quite as capable as the Jimny off-road, but it has more than enough ability for most people's needs. Plus, the standard Panda's entertaining driving dynamics are backed up by the reassurance of four-wheel-drive grip.
A stylish dashboard design and interior fabrics make it feel thoroughly modern next to the Suzuki. The tiny two-cylinder turbocharged engine suits the Panda's eager nature, and the 4x4 extras give it a muscular look, without going too far over the top.