New Fiat Tipo family to include Nissan Qashqai rival
The Fiat Tipo hatchback will morph into a range of new models, while a Fiat Punto successor is also on the way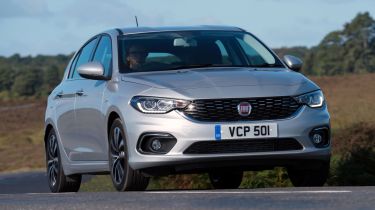 The Fiat Tipo family hatchback is likely to morph into an entire family of vehicles – including an off-road-inspired Tipo Cross model, as well as a full-sized SUV to rival the likes of the Nissan Qashqai and Skoda Karoq.
Recent spy shots showed a revised Tipo hatchback wearing additional body cladding – a sign that Fiat is preparing a slightly jacked-up competitor to the likes of the Ford Focus Active and Kia XCeed. This version is likely to be part of a range-wide facelift that's due before the end of 2020.
However, the company's boss has acknowledged that, in the medium term, a proper SUV is required – perhaps forming part of an expanded Tipo family or as the model's direct replacement. "Fiat has been doing family cars for so many years that there's still a lot of legitimacy for us in the family car market," Olivier François said. "It's also why the Tipo is doing well. It's a very good car, but it's not an SUV.
"Now clearly the next generation of the Tipo must migrate into a more relevant space, which is SUV. So you can probably expect to see a Tipo product line – besides the Tipo, on top of the Tipo, or instead of the Tipo. But family transportation is probably more in the Qashqai bodystyle."
François believes that the strong family SUV sales from value-oriented brands make Fiat's entry into that market doubly important. "Who is doing well? The budget-conscious ones such as Skoda, SEAT, Kia and Hyundai," he said. "So yes, we belong there. Honestly, I wish we had something today. But it's very important for us to feed that part of the Fiat range without too much delay."
New Fiat Punto successor on the way
Elsewhere at Fiat, the brand has already started work on a successor to the Punto supermini, Auto Express has learned.
Production of the previous-generation Ford Fiesta rival ended in 2018, stymied by ever-tightening safety and emissions legislation. Fiat has a long history of superminis, going back to the original Punto and the Uno, and a new one would be an obvious project after the proposed PSA merger, given the possibilities offered by the CMP platform that supports the Peugeot 208 and Vauxhall Corsa.
Fiat boss Olivier François declined to provide details on what tech a new Punto might use, but he did confirm that a fresh supermini is under development. "We need a B-sector [supermini]," he said. "It's not a mystery. That project has been postponed continuously. Now it is under development. But it would be premature to speak of this model. We will have a B-sector, for sure."
Would you like to see the arrival of a full-size Fiat SUV? Let us know your thoughts below...