Ford to build electric cars on VW's MEB platform in 2023
Ford will "design and build at least one high-volume fully electric vehicle in Europe" using VW's MEB platform in 2023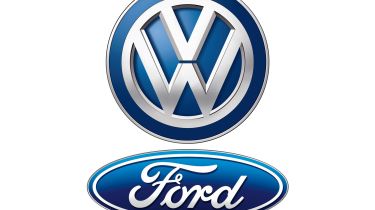 Ford has confirmed it will "design and build at least one high-volume fully electric vehicle in Europe" using Volkswagen's Modular Electric Toolkit (MEB) platform within the next few years.
Starting in 2023, Ford will become the first manufacturer outside of the Volkswagen Group to use the MEB platform to deliver a high-volume EV in Europe, expecting to deliver more than 600,000 examples of such cars to European customers over the course of six years.
• Ford to cut thousands of jobs
The VW Group has invested around $7 billion in its MEB platform since 2016 and plans to build some 15 million cars on it in the next decade. Ford's use of the platform is part of its own $11.5 billion investment in EVs; it hopes the move will allow it to offer European customers a broad range of EVs while simultaneously meeting its commitments on sustainability.
Volkswagen CEO Dr Herbert Diess commented: "Looking ahead, even more customers and the environment will benefit from Volkswagen's industry-leading EV architecture. Our global alliance is beginning to demonstrate even greater promise, and we are continuing to look at other areas on which we might collaborate.
"Scaling our MEB drives down development costs for zero-emissions vehicles, allowing for a broader and faster global adoption of electric vehicles. This improves the positions of both companies through greater capital efficiency, further growth and improved competitiveness."
The two manufacturers have also announced a joint investment in autonomous vehicle technology firm Argo AI. The brands will have an equal share in the $7 billion firm, giving them a substantial joint majority to help them develop their own driverless vehicle technologies.
Jim Hackett, CEO of Ford, said: "While Ford and Volkswagen remain independent and fiercely competitive in the marketplace, teaming up and working with Argo AI on this important technology allows us to deliver unmatched capability, scale and geographic reach.
"Unlocking the synergies across a range of areas allows us to showcase the power of our global alliance in this era of smart vehicles for a smart world."
In addition, Ford and Volkswagen reiterated the fact they are on course to start delivering medium pickup trucks for global customers in 2022, followed by commercial vans.
Do you think a partnership between Ford and VW will be a good thing? Let us know in the comments below...