Ford investigates displaying adverts on car infotainment screens
Information from roadside advertisements would be beamed to a car's infotainment screen under Ford's patent application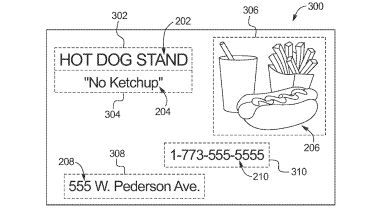 Ford has patented a system that would scan roadside advertisement billboards and display information from them as pop-up ad on a car's infotainment screen.
The patent, which was filed in the US back in 2016 but has only recently become publicly accessible, shows an example image of a billboard for a hot dog stand. Information including the business' name, slogan, phone number, address and logo are highlighted as being displayable in the car.
The patent says this information would be captured from the billboard and relayed to the in-car screen "via a camera", while online links could be included in the displayed information, taking the driver to the advertiser's website upon clicking or tapping.
This isn't the first time unusual patents have been filed by Ford. The US giant has previously submitted applications for a boot-mounted video projector, a system that rids a vehicle of its 'new-car smell', and removable driver controls for autonomous vehicles.
It's unclear whether the in-car advert patent could be rolled out to Ford's production cars, or whether it would be implemented in the UK. Similarly, the patent makes no reference to whether the innovation is intended for implementation in today's cars, or any self-driving vehicles that may or may not arrive in the future. 
Another patent of a similar vein recently filed in the US comes from multinational communications giant Verizon. This describes a system where a camera scans a car's number plate and uses the driver's information - provided they have opted in to the service - to display a personalised advert on the nearest smart billboard.
Would you like to see adverts displayed on your car's infotainment screen? Let us know in the comments section...