Ford explores carbon fibre engines and electric turbocharging at Detroit
In the pursuit of lighter, more efficient engines, Ford is exploring less conventional ways of saving fuel
Ford has outlined its plans to make its cars even more efficient, by installing carbon fibre, electric turbocharging and cylinder deactivation to its family of EcoBoost petrol engines.
Speaking at the Detroit Motor Show this week, Bob Fascetti, Ford's vice president of powertrain development revealed the brand's big plans to make cars lighter and more economical – as it pushes out four new versions of its successful EcoBoost engine by 2020.
• Most economical cars to buy right now
Ford's 1.0-litre three-cylinder EcoBoost has already won Inernational Engine of the Year three times, but not wanting to rest on their laurels, engineers rolled out a new concept using carbon fibre to cut weight and improve efficiency.
Used to seeing gleaming concept cars fill motor show stands, Ford's prototype engine was a bit different. By using injection-moulded carbon fibre for things like the sump and oil pan, the new three-cylinder is 13kg and 15.5 per cent lighter than the engine found in the existing Fiesta and Focus. It benefits from the extensive use of aluminium to halve the weight of some crucial components, too.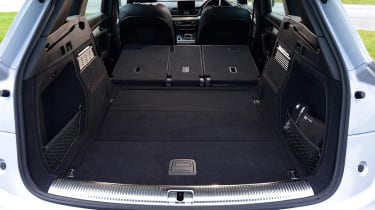 The cylinder head, for example, has been shaved from 7.7kg to just 6.5kg – a 15 per cent weight saving. The engine block is down to just 14kg from 23.5kg, representing a bulk reduction of 40 per cent. Ford says these changes (among others) could equate to a 4.5 per cent improvement in fuel economy and emissions.
Cost is the main thing holding Ford back in implementing these technologies on production cars, but as the price comes down there's every feasibility we could see carbon fibre engines taking the market by storm.
Elsewhere, Ford is looking at variable geometry, electric turbocharging and cylinder deactivation to improve cost of ownership even further. Bosses said they were not looking at smaller two-cylinder engines due to unwanted vibrations in the cabin, but insisted that shutting down one of the three cylinders on its EcoBoost engine when not needed could improve cruising fuel consumption by four to six per cent.
What do you think of Ford's plans for carbon fibre engines and electric turbocharging? Let us know below...