Ford to cut up to 400 jobs at Bridgend factory
Ford announces voluntary redundancy scheme at its engine plant in South Wales with 400 job losses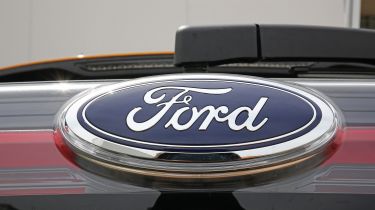 Ford is planning to cut up to 400 jobs at its Bridgend Engine Plant in South Wales, it has been announced.
The American brand has revealed plans for a voluntary redundancy scheme as part of a massive restructuring of its European operations.
• Ford could lose £613m this year as a result of hard Brexit
It has been reported that the scheme will affect between 350 and 400 jobs, a rough figure which Ford says is unofficial but fairly accurate.
The scheme is open to both hourly and salaried employees, with those who apply and are selected expected to leave their jobs in the second half of 2019.
In a statement, Ford said the "voluntary separation programme" is part of its "ongoing actions to create a sustainably profitable business in Europe".
Ford has held union discussions on the scheme, which it says is targeted at "matching the plant's labour requirements to the projected production volume expectations in the near term".
It follows the news that Ford has formed an alliance with Volkswagen to build new medium-sized pickup trucks and commercial vehicles for the global market, as well as collaborating on electric vehicles, autonomous cars and mobility solutions further down the line.
Ford could cut more than 1,100 job cuts at its Bridgend plant
Ford could cut more than 1,100 jobs at its Bridgend engine plant in south Wales by 2021, a move the factory's labour union Unite blames partly on Brexit.
According to reports, Ford is looking to reduce the number of staff from around 1,850 to around 600 in the next five years. The plant currently builds the popular Ford EcoBoost engine, as well as V8 and V6 engines for Ford's former subsidiary Jaguar Land Rover. Last year, the factory churned out 670,000 engines.
With JLR due to move engine manufacturing to its new plant in Wolverhampton after 2020, Ford will also look to scale back on production. And though the company announced it would invest an initial £100 million to build a family of "all-new, technologically-advanced petrol engines at Bridgend from late 2018," it said overall workload will be "reduced."
Len McCluskey, head of the labour union Unite – the same union participating in the General Motors and PSA-Peugeot Citroen takeover negotiations to ensure Vauxhall's Ellesmere Port and Luton factories in the UK remain open and fully staffed – said the union would use "all its might" to prevent job losses and blamed the uncertainty associated with Brexit as a partial cause.
"Brexit is clearly a factor here. So I appeal again to the Westminster government and Theresa May to make it categorically clear without delay that there will be tariff-free access to the single market and customs union, because the uncertainty the UK's automotive sector is enduring is having damaging real-life consequences now, before talks have even begun. The prime minister must act now because the very future of UK manufacturing, including car-making, is at stake.
• Diesel ban: the state of play and what next for diesel cars in the UK?
"Ford must give this plant a chance and work with Unite to secure a better future. We will be seeking legally binding guarantees to secure future production at the plant as well as exploring how Bridgend's production capacity can be fully utilised through the introduction of new lines."
In a statement, Ford said: "It goes without saying, that in order to attract new business, the Bridgend operation would need to ensure its competitiveness, and addressing some of the current concerns relating to the plant's efficiency would be high on the agenda."
What will the UK vehicle manufacturing sector look like post-Brexit? Tell us your thoughts in the comments below...