Frictionless Brexit deal is critical to UK investments says Ford boss
Ford's investment plans in the UK hinge on a smooth transition to Brexit avoiding increased 'border friction'.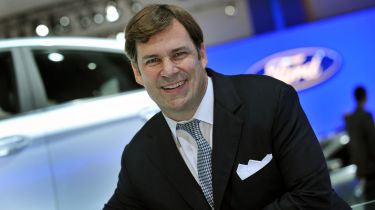 Ford's European boss has warned against 'border friction' that could hamper his firm's investment in UK plants following Brexit - the UK's forthcoming exit from the European Union.
Speaking at the Financial Times Future of the Car Summit in London, Jim Farley said that Ford's UK infrastructure - which comprises engine factories and engineering facilities - could be "hampered" if movement of goods around the EU is made more difficult. And he asked governments to ensure that a "transitional deal" is put in place, in the event of any delays in the forthcoming negotiations on a free trade agreement.
• Diesel Ban: what next for UK diesels?
"One area that hasn't been talked about much is any sort of friction loss at the border," said Farley. "It could mean more trucks, different holding centres, and cash trapped. So there are very significant issues beyond the trade agreement. We're spending a lot of time thinking and talking about how we need to change our operations and what support we need from the Government to ensure that friction doesn't get created."
He added, "Brexit is incredibly important and we expect Britain and the EU to have a very ambitious agreement. Equally important are agreements on places like Turkey and South Africa. Customs union is critical, and zero-tariff deals are really critical.
"We really believe in a transitional period - that if an agreement isn't done, at least there's a transitional period. This should happen if the details aren't hammered out in time before Brexit. It's critical for the future of our investments in the UK."
• Best low emissions green cars
Infrastructure investment key to EV roll-out
Farley also said that external forces like infrastructure are going to be the determining factor in the success of electric cars in the coming years, instead of battery technology or the amount of new EVs being offered to customers. He confirmed Ford's plan to launch 13 electrified vehicles by 2020, including a plug-in Transit. But he said that rivals would join the company in bringing a raft of EVs to market - leaving customers to weigh up a number of factors to determine if an electric car is for them.
"We have 13 new products coming out in the next three years," he said. "But from all the companies you're going to find an enormous offering [of products]. The issue is adoption and that's driven by lots of different things. Adoption will be the key to the scaling up of EVs, not the products on offer.
"The plug-in Transit is a really interesting example. For cities you can ban cars but how do you get goods in? Tradesmen can't bring in a toilet on the Tube."
What do you think the impact of Brexit will be on the UK car industry? Let us know in the comments section...