Ford Fiesta automatic review
Ford Fiesta automatic features economical EcoBoost petrol engine and a practical interior
It's great that buyers looking for an Ford Fiesta automatic can now opt for this EcoBoost engine, because it really is the pick of the range. The box itself has a few quirks, but they're relatively minor issues that you'd quickly get used to. We wouldn't go for the Titanium X model, however – simply because that near-£18,000 price tag sounds a little too expensive.
The Ford Fiesta automatic is now available with the excellent 1.0-litre EcoBoost engine, but don't forget that you can also buy it with the 1.6-litre petrol for slightly less. We'd still go for the EcoBoost version however, as it's nearly as powerful and cheaper to run.
So, Ford's award-winning EcoBoost engine paired up with a six-speed dual-clutch automatic gearbox in our favourite supermini – sounds like a winning combination, doesn't it?
• Extreme new Ford Fiesta RS is coming
Before we get too excited, though, it's worth saying that this box is currently available only with the 99bhp 1.0-litre three-cylinder, rather than the 123bhp version. Also, you'll forego some of this engine's impressive running costs, with economy falling by 8mpg to 57.7mpg.
Much of that is down to the fact that there's no stop-start. It'll also push CO2 emissions up from 99g/km to 114g/km, which means road tax is no longer free – you'll have to pay £30 per year. That's not exactly a deal-breaker, though.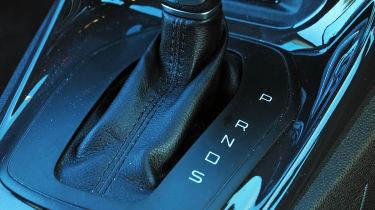 The gearbox mostly impresses, but it seems less well tuned than some dual-clutches. It sometimes doesn't change up or down when expected. It's also a bit frustrating having to shift via buttons on the side of the gearknob, rather than moving the lever itself. But niggles aside, this is a convincing auto supermini – especially as it retains the rest of the Fiesta's talents. It has a grown-up character for such a small car, with a comfortable ride and isolated interior.
More reviews
Car group tests
In-depth reviews
Used car tests
In terms of performance, the engine feels as well suited to this car as ever. It's quiet and smooth, but has enough low-down torque that you're never caught out when trying to nip into a gap. Officially, this Fiesta will cover 0-62mph in 11.2 seconds, which is exactly the same as for the manual model, and not once did we think it felt slow.
If you want to have fun, it boasts really responsive steering and sharp handling. We weren't keen on the stitched leather wheel fitted to our Titanium X model, though; it felt a little too fat.
You can squeeze five adults into a Fiesta, and there's a choice of three or five doors. The boot holds a reasonable 276 litres, but the rear seats also fold down.
Titanium X cars come with 16-inch alloy wheels, heated part-leather seats, keyless go and ambient interior lighting, as well as cruise and climate control.
As good as this Fiesta is, it does cost nearly £18,000 – that's a few hundred pounds more than the sporty 118bhp Renault Clio GT Line, which also comes with a dual-clutch automatic. It's good – but the £15,245 Zetec with this gearbox looks like a better choice.