Deal of the day: a family favourite Ford Focus for less than £200 per month
The Ford Focus is still one of the best-driving hatchbacks on the market – and it looks even better value on a stonking lease deal, in well-specced Active trim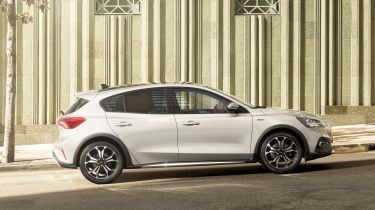 Ford Focus 1.0 EcoBoost Active for £195.46 per month
5,000-mile annual limit, two-year deal
£2,057.94 in deposits and fees  
Amid the clamour around electric cars, and the seemingly inexorable market shift towards SUVs, it's easy to see how buyers just after the qualities of a good old-fashioned family hatchback might feel a bit limited in choice these days. But some of the biggest names in the business are still out there, fighting for your custom – and there can be few better examples of this than the lease deals currently being offered on the Ford Focus.
Ford's rival for the VW Golf and Vauxhall Astra was winning group tests barely two years ago, yet here it is at less than £200 per month, after a respectable deposit. The two-year deal at Carparison that we found through leasing.com has a deposit (including a broker's fee) of £,2057.94 and 5,000-mile annual limit, although raising that to a more flexible 8,000 miles only adds about a fiver per month onto the bill.
The version in question has Ford's well-proven 1.0-litre three-cylinder EcoBoost petrol engine, producing 123bhp and taking the Focus from 0-62mph in a whisker over 10 seconds. Perhaps more importantly, there's claimed fuel economy of 50mpg.
The variant is actually the Focus Active, which gets a slightly raised ride height and chunky body cladding for a semi-SUV look. But don't be fooled; this version still rides as sweetly as regular Focuses, while still offering that blend of crisp, meaty steering and excellent body control. It's still hard to think of any other family hatchback that offers this car's level of involvement, frankly.
Active also brings plenty of useful toys, including a digital trip computer display in the middle of the conventional instrument panel, a whopping 13.2-inch infotainment system with all the usual smartphone connectivity, rain-sensing wipers, Ford's heated windscreen, keyless entry and start, 17-inch alloy wheels and dual-zone air conditioning.
Of course, this is a contract-hire lease deal, so you'll need to walk away after the two years, without the option to buy the vehicle or use any of the equity remaining it as part of your deposit on its replacement. But it does massively undercut Ford's own PCP option (called Options) which, for a similar two-year deal and with a matching deposit of £2,000, costs a hefty £516 per month. You can always buy the car after the 24 months on Options, admittedly, with a final payment of £14,927.
As always, this is a great deal on a new car that we've chosen independently and are happy to recommend. Terms and conditions will always apply, deals are subject to availability and prices can always change.
Get the Ora Funky Cat Deal of the Day on leasing.com, or take a look at yesterday's top deal here…