Ford Mondeo safe for now as company seeks to stem losses
As rumours circulate of the Mondeo's demise, Ford admits its European operations require a "major redesign"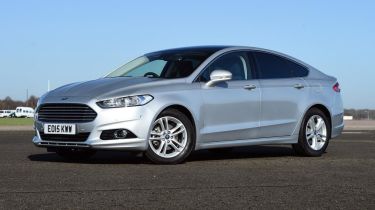 Ford is facing widespread speculation its previously genre-defining Mondeo hatchback is to cease production.
Reports over the weekend suggested the once ubiquitous Mondeo could chopped from Ford's lineup, with analysts from Morgan Stanley saying the company could cut up to 12 per cent of its global workforce of 200,000.
With European losses of €73 million (£66 million approx) between April and June this year, much of those job losses are expected to be concentrated in Europe. The company employs 12,000 people in the UK in its dealerships, engine plants and administration centres, building cars such as the Mondeo, Fiesta, Focus and Galaxy in Germany in Spain.
Sources close to Ford told the Sunday Times the Mondeo hatchback - as well as the S-Max and Galaxy people carriers - are likely to be dropped from showrooms, as attention shifts to the growing SUV market and models like the Kuga and EcoSport.
A spokesman for Ford said the majority of its volume and revenue are currently in "low-performing cars and Multi Activity Vehicles" like the S-Max and Galaxy. The company said it plans to attack costs "aggressively" by implementing "facility and product program efficiencies" – hinting job losses are on the horizon.
Addressing the Mondeo, Ford said it plans to go ahead with a scheduled facelift later this year, updating the car's looks and enhancing the Mondeo Hybrid. But while a facelift means the Mondeo's short-term future is secure, questions remain with regard to whether it will be replaced in the longer term.
Ford declined to the number of job losses being reported as they were "pure speculation", but admitted "our Europe business requires a major redesign to deliver our longer-term target of 6% EBIT [Earnings before Interest and Taxes] margin".
How 'Mondeo Man' came into being
While the Mondeo may be safe for now, the very fact its demise is being discussed is indicative of changing consumer tastes in cars. Back in 1996, a year before he was elected Prime Minister, Tony Blair recounted a meeting he had with a self-employed electrician who was cleaning his car: "I met a man polishing his Ford Sierra," Blair said. "His dad voted Labour, he said. He used to vote Labour, too. But he'd bought his own house now. He was doing very nicely. 'So I've become a Tory,' he said.
"That man polishing his car was clear. His instincts were to get on in life. And he thought our instincts were to stop him."
While the man Blair met had a Sierra, the car quickly became a Mondeo as the story gathered momentum, and Mondeo Man was born as shorthand for the modern average voter.
The Mondeo's fortunes started to stall when it was first outsold by the BMW 3 Series, but its final undoing may prove to be at the hands of an SUV.