Ford Mustang Convertible - best convertibles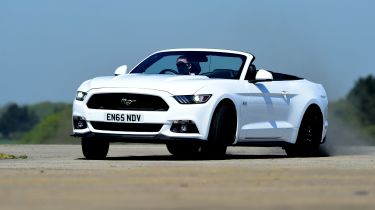 A slice of American muscle, with the roof chopped off - the Ford Mustang Convertible looks brilliant, and even the range-topping V8 model is reasonably priced. Surely there's no better way to get wind-in-the-hair thrills on a budget?
Well, the Mustang Convertible isn't perfect. Even the smaller 2.3-litre EcoBoost engine won't hit 30mpg, while the interior isn't up to the class best for quality. It's also fairly wobbly in convertible form, as without the roof to add strengthening it flexes over bumps.
Yet as an event, driving a Mustang Convertible is brilliant fun, and the low price tag makes a lot of its sins forgivable ones.