Ford Mustang to lead Team Sky in the 2016 Tour de France
Ford will provide the support vehicles for Team Sky at this year's Tour de France, with the new Ford Mustang heading the fleet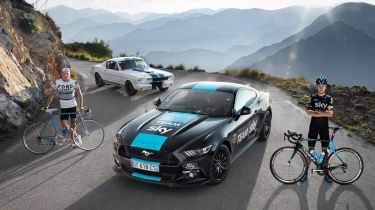 The latest Ford Mustang will head a group of Ford support vehicles for Team Sky in the 2016 Tour de France cycle race.
Earlier this year, Ford announced a new partnership with Team Sky, providing support vehicles for some of cycling's highest profile races. Now Ford is hoping build on last month's success at the 24 Hours of Le Mans with a win in the Tour de France.
June saw Ford reveal a special edition version of the new GT supercar to commemorate the 1966 Le Mans win of Bruce McLaren and Chris Amon in a Ford GT40. In the same year, Ford enjoyed another victory in France, but this time on two wheels when Ford's Lucien Aimar won that year's Tour de France.
• Police Ford Mustangs could join the fleet of UK forces
Now, 50 years after the '66 victories, Ford has been selected as Team Sky's support vehicle supplier in preparation for this year's 21 stage, 3,519km event.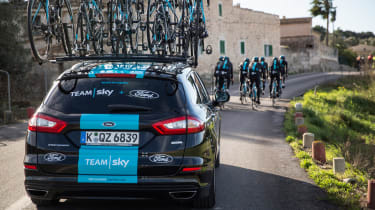 In order to give Team Sky the best chance of winning this year's race, Ford has supplied Mustang, Edge, S-MAX, Kuga, Mondeo and Transit support vehicles. The Mustang is expected to act as the halo car, with the 5.0-litre V8 Fastback model developing 435bhp – making it good for 0-62mph in 4.8 seconds. The S-MAX, Kuga and Mondeos all come fitted with four-wheel drive.
Despite Ford promoting its Mustang as the lead car, it's the Mondeos will be the most common vehicles supporting Team Sky. Each one will use Ford's 2.0 litre diesel engine with 178bhp, though the suspension has been upgraded to carry the extra 400kg of bikes, people and equipment. With a raised ride height from the custom suspension, Ford has had to fit 5mm thick alloy plates to the underside of the Mondeo engine bay to protect vital components.
Every vehicle will be sporting the famous blue and black livery previously seen on last year's Jaguar F-Pace and XFR-S Sportbrake support vehicles. Jaguar's sponsorship came to an end in 2015.
Team Sky has won the Tour De France three times in the last four years with British elites Chris Froome and Sir Bradley Wiggins, so the odds are in Ford's favour for this year's race.
Will the Ford Mustang make an impact at this year's Tour de France? Let us know below...