Hot Hatch of the Year 2018: Honda Civic Type R
The Honda Civic Type R is the 2018 Auto Express Hot Hatch of the Year, with the Ford Fiesta ST and Hyundai i30 N commended
The hot hatch market is fiercely contested, and in the past 12 months competition has been tough, with the new Hyundai i30 N and Ford Fiesta ST hitting the tarmac, plus an updated VW Golf GTI.
However, for a second straight year the Honda Civic Type R takes the crown. That's thanks in part to the pure front-wheel-drive layout and manual box, which compared with four-wheel-drive, dual-clutch rivals put you at the heart of the action.
Unlike those competitors, the Type R has no tricks up its sleeve such as a drift mode; it simply relies on first-class engineering to deliver its thrills.
Yet while past versions were resolutely hardcore, this model is more versatile, with a broader range of ability than ever. That's thanks to the clever suspension, featuring adaptive dampers with a comfort mode. This combines to make the Type R more usable and less frenetic when you need it, offering motorway comfort and plush damping on bumpy roads. But the Civic retains its wild side, with touring car-style control and aggression on track.
The front wheels have no trouble delivering the 2.0-litre turbo's mammoth 316bhp and 400Nm of torque to the road. Get off the line fast thanks to the beautifully set-up limited-slip diff and 0-62mph takes 5.8 seconds, but what makes the Type R our champ again is its detailed feedback.
You can dive into bends carrying incredible speed and the car's front end bites into the road. The engine's broad spread of power slingshots you out of corners and down the straights. Snatching gears with the mechanically precise six-speed manual box is addictive, and unlike some turbo engines, the Type R's motor never tails off.
Any hot hatch has to cover all bases and, divisive styling aside, the Civic is as competent at carrying four people and luggage as it is attacking a B-road or tearing up a track day. The 420-litre load bay is one of the biggest in its class, and the spacious rear can comfortably seat two adults.
Performance and practicality combine in the Type R to deliver a package where there's barely any compromise. It's still the king of this class.
Our choice
Honda Civic Type R GT (£33,525)
The Type R starts at £31,525 in entry-level guise, while this higher-spec GT adds dual-zone climate control, Garmin sat-nav and extra safety kit for £2,000. It's money well spent, making the Honda easier to live with.
Commended
Ford Fiesta ST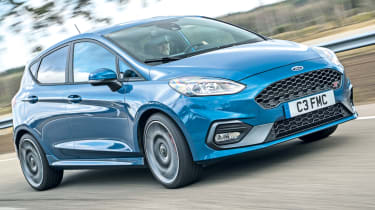 Despite the move to a 1.5-litre three-cylinder engine, the Fiesta ST is still a stunning hot hatch. It has lost none of the character that made it a riot from behind the wheel, but has gained an extra degree of usability with improved ride comfort. It's light, pointy and punchy, which is exactly what a souped-up supermini should be.
Hyundai i30 N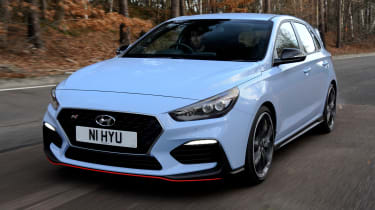 Given that this is Hyundai's first effort at a proper hot hatch, the i30 N is a real triumph. Go for the Performance option, which comes with a clever diff and extra power (taking the output to 271bhp), and you'll be able to genuinely cut it with the likes of Volkswagen's Golf GTI. The car is incredibly affordable as well.
Auto Express New Car Awards 2018
For complete, in-depth coverage of the 2018 New Car Awards, buy your collector's edition copy of the Auto Express magazine now or click here to subscribe...