Executive Car of the Year 2018: BMW 5 Series
The BMW 5 Series is the 2018 Auto Express Executive Car of the Year, with the Mercedes E-Class and Volvo S90 commended
Competition is tight in the executive car class, but for a second year in a row the BMW 5 Series has proven it's the cream of the crop. This Mk7 model has evolved into the consummate all-rounder, offering style, refinement, quality, performance, tech, comfort and efficiency. It's quite a package.
The 5 Series was a leap forward when it arrived thanks to its new, lightweight architecture, which adopted much of the tech from the larger 7 Series. Distilled down into the more affordable model, it's an enticing proposition and offers something that is key to every BMW: an involving drive.
This is the most dynamic car in its class, with beautiful balance, impressive agility for a big executive saloon and a rewarding chassis that doesn't compromise on comfort. The powertrains on offer match up, too. Diesel has a place here, and with four and six-cylinder variants there's lots of choice. But if you're against diesel, a plug-in hybrid and potent petrol versions serve up the performance and refinement required at this level.
Go for adaptive dampers and the 5 Series' abilities are widened further, offering a cossetting ride in its Comfort setting. In Sport there's tauter control to the way the BMW conducts itself.
The new platform has helped trim around 100kg from the latest model, which helps make the car one of the most nimble and engaging exec saloons.
With xDrive four-wheel drive available, you can add extra traction to handle typically treacherous British winter conditions, yet this doesn't hamper the rear-drive model's dynamic balance or sense of fun. All cars get an eight-speed auto, which changes smoothly in auto and snaps through ratios quickly in manual mode. Linked to the 187bhp 2.0 diesel we recommend, the powertrain serves up decent pace, excellent refinement and impressive running costs, with up to a claimed 68.9mpg possible.
You needn't get behind the wheel to experience the car's abilities, though. An optional automatic parking system lets you move the 5 Series in and out of spaces using the digital key fob.
Safety is strong, too, with the Driving Assistant Plus pack allowing the BMW to accelerate, brake and steer itself on a motorway at up to 130mph. It even changes lanes and overtakes.
It doesn't skimp on luxury, either, with sat-nav, a full leather interior and digital dials as standard.
Our choice
BMW 520d SE (£37,775)
Only SE and M Sport trims are offered in the 5 Series line-up; racier M Sport models bring extra equipment and a beefier bodykit, but cost a further £3,000. So it's the entry-level SE version that we'd go for, because this gets the same impressive and intuitive infotainment system, a digital dashboard and just as much comfort, agility and quality as the more expensive variant. The 520d's engine offers the best balance of performance and economy.
Commended
Mercedes E-Class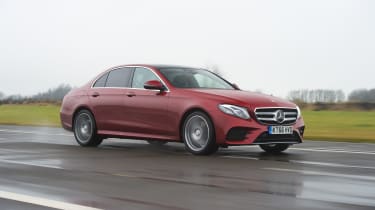 If a sophisticated driving experience and plenty of luxury is what you're after from your exec saloon, then the Mercedes E-Class delivers it in spades. It's not as engaging or exciting as the 5 Series overall, but has a beautifully crafted cabin, impressive digital displays and air suspension, but those latter features are both optional.
Volvo S90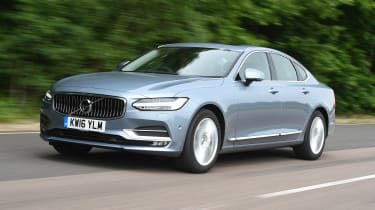 The S90 takes the effortless Scandinavian cool from Volvo's SUVs and distils it down into a smart saloon package that feels decidedly different to its German rivals. This makes it a breath of fresh air in an otherwise derivative class. Strong infotainment, plenty of comfort and advanced technology mean you can buy the Volvo on merit.
Auto Express New Car Awards 2018
For complete, in-depth coverage of the 2018 New Car Awards, buy your collector's edition copy of the Auto Express magazine now or click here to subscribe...