Design Award 2018: Aston Martin Vantage
We asked you what your favourite car design is for 2018, and the Aston Martin Vantage has taken the crown
The Auto Express team drives hundreds of new cars every year to decide the winners of its New Car Awards, but we leave it up to you, our readers, to choose which car deserves our Design Award.
This year thousands of you took part in the poll at autoexpress.co.uk to pick the most beautiful car revealed over the past 12 months. And a clear winner emerged: the Aston Martin Vantage.
The new baby sees the brand leave behind the elegant but conservative design language it has relied on for more than a decade in favour of something altogether more youthful and radical. As such, Aston certainly hasn't played things safe, but according to you, it's played a blinder.
Almost nothing has been carried over to the new Vantage from its predecessor inside, outside or under the skin, and little is shared with the DB11, either.
Instead, the car looks more to the James Bond-endorsed DB10, although some more aggressive design and aerodynamic elements are injected with the inclusion of a large chin spoiler, a rear diffuser set-up and a prominent lip on the bootlid. Throw in bold new paint colour choices, and it's clear to see that the Vantage stands out from its larger siblings with a design character of its own.
It's a similar story in the cabin. While much of the switchgear componentry has been carried over from the DB11, it's laid out in a much more exuberant manner, plus bodywork-toned inlays add a dash of colour inside as well.
Aston Martin's tag line these days is 'for the love of beautiful'. Under the direction of chief creative officer Marek Reichman and his team, the new Vantage fulfils that brief perfectly.
Commended
Polestar 1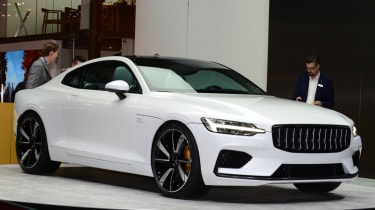 Volvo has won huge plaudits for its latest design language, which has transformed almost its entire range into some of the best-looking new cars on the road. The Polestar 1 applies these principles to a full-size, 592bhp hybrid coupe, acting as a flagship for the sporty new Polestar sub-brand, launching next year.
Honda Urban EV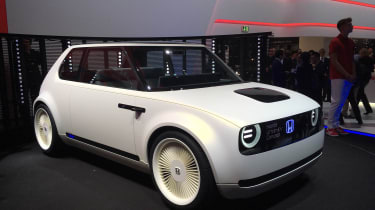 Placing third in our poll, Honda's cute Urban EV is the most popular concept car of the past 12 months. A production version is promised in 2019, and with order books set to open at the start of next year we should see the finished item very soon, with the fantastically retro look mostly unscathed.
Auto Express New Car Awards 2018
For complete, in-depth coverage of the 2018 New Car Awards, buy your collector's edition copy of the Auto Express magazine now or click here to subscribe...