Social Media Campaign of the Year 2018: Jeep
Jeep's 'Set your own course' has won the 2018 Social Media Campaign of the Year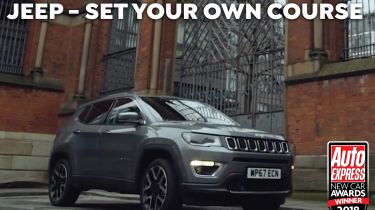 Jeep's 'Set your own course' campaign was a smart connection to the Compass SUV it was focused on. SHARE Creative, on behalf of Jeep UK, undertook a social listening and cluster analysis project to identify how Brits discussed the concept of 'change'.
It developed a series of entertaining, emotionally driven content focused on inspiring people who've shifted careers or made other changes to better their lives – setting their own course.
The stories were based around the SUV's core values of tech, capability, design and refinement. Short videos on Facebook were used to drive users to jeep.co.uk, and were designed to engage them to find out more about the Compass.
The campaign reached more than 406,000 users, generated 17,500 link clicks and almost 80,000 video views. Impressively, the campaign's click through rate – the proportion of visitors who follow a link – was 3.51 per cent up on the industry average. Jeep's share of voice rose hugely, too.
In January, users visited the campaign page over 16,000 times, and 1,500 users clicked through to other parts of the Jeep website.
Our judges felt the campaign was clever and well judged, with a smart approach. The focus on delivering results also impressed.
Auto Express New Car Awards 2018
For complete, in-depth coverage of the 2018 New Car Awards, buy your collector's edition copy of the Auto Express magazine now or click here to subscribe...