Car Advertising Campaign of the Year 2018: Volkswagen T-Roc
Volkswagen's 'Born Confident' advert for the new T-Roc has won the 2018 integrated advertising campaign awarC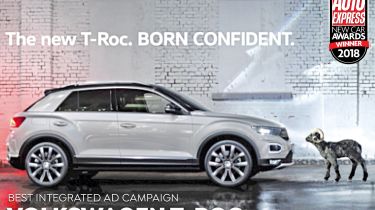 Launching a new car isn't easy, even for a well-known brand like Volkswagen. Particularly when it's an SUV, entering one of the most competitive markets in the UK. The firm wanted to drive awareness for the new T-Roc, but in a way that stood out. In its own words, "to challenge the status quo, behave differently to other automotive brands and make T-Roc a big player in its segment".
The ad showed a young ram born with an adult's black fur and horns. He confidently led the herd to stand up to a dog and a bull. But on meeting the T-Roc, he's clearly met his match.
The ad ran across print, websites, TV and social media, including Instagram, YouTube and Snapchat. It also ran in cinemas, plus there was a digital outdoor element that delivered 35.7 million impacts and reached 6.4m UK adults. The T-Roc page was the most visited on Volkswagen.co.uk, and led to more than 14,000 brochure downloads.
Crucially, the campaign contributed to the T-Roc becoming the most test-driven model in the range. In the first week T-Roc enquiries rose to about 150 a day; since then, daily enquires are around four times higher than before the campaign ran.
Our judges felt the campaign resonated well with the audience. The creativity really stood out, and the campaign will surely be among the most memorable of the past 12 months.
Auto Express New Car Awards 2018
For complete, in-depth coverage of the 2018 New Car Awards, buy your collector's edition copy of the Auto Express magazine now or click here to subscribe...