Van of the Year 2018: Mercedes Sprinter
The Mercedes Sprinter is the 2018 Auto Express Van of the Year, with the Ford Transit Custom and Volkswagen Crafter commended
For the all-new Mercedes Sprinter, it's a case of evolution and revolution rolled into one. The evolution comes with the smoother lines outside, improved payload volumes, better fuel economy, lower emissions and a smarter interior that's inspired by Mercedes' passenger cars.
Higher-spec models offer car-like features such as improved plastics, extra fabric trim and a multifunction steering wheel similar to that in the latest A and C-Class, and plush seats are designed to deliver a more comfortable work environment.
The revolution starts in the cab; the Sprinter is the second Mercedes, after the A-Class hatch, to get the MBUX voice-controlled infotainment system. Simply say 'Hey Mercedes', and the set-up kicks into life to provide navigation information, change radio stations and offer petrol price data via a live services subscription.
Of more importance to van users and fleet managers is the standard fitment of Mercedes PRO Connect to every Sprinter that leaves the factory. This online technology means fleet managers can monitor their vans in real time, allowing them to plan logistics, arrange for van servicing and monitor driver behaviour with an eye on keeping fleet running costs in check.
The other big change is the arrival of front-wheel drive alongside the rear-drive and 4x4 variants. The front-drive model benefits from an extra 50kg of payload, plus the load floor is 80mm lower, boosting accessibility over the rear-drive variant. Add three roof heights and three body lengths for the panel van, plus chassis cab and crew cab variants, VIP shuttle bus versions and camper-ready tractor head units, and the new Sprinter has all bases covered in the large van sector. 
Our choice 
Mercedes Sprinter 314 CDI L2 H1 (£30,405 excl VAT)
With over 1,700 variants, there will be a Sprinter to suit most needs. But the standard-length, high-roof panel van in 141bhp front-wheel-drive guise offers a fine mix of payload capacity and efficiency with a lower load floor than the rear-drive version.
Commended 
Ford Transit Custom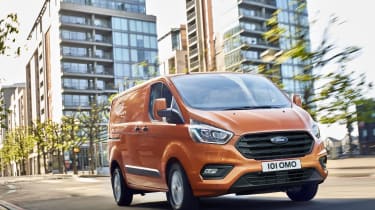 A mid-life facelift has kept the Transit Custom in contention. The looks take cues from Ford's cars, and it has SYNC 3 infotainment. Options include two body lengths and two roof heights, and the Double Cab Van is an interesting alternative to an MPV.
Volkswagen Crafter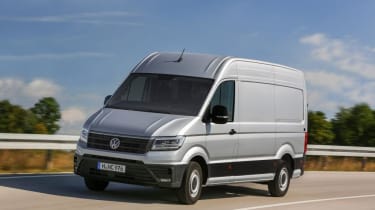 The Crafter is proof that you can still have fun driving a working vehicle. VW has saved weight in its construction, and it's as nimble as vans from the class below. This is a fringe benefit of a large van, and with a large payload, three body lengths and front, rear and four-wheel-drive options, it's a great choice.
Auto Express New Car Awards 2018
For complete, in-depth coverage of the 2018 New Car Awards, buy your collector's edition copy of the Auto Express magazine now or click here to subscribe...