Premium Electric Car of the Year 2018: Jaguar I-Pace
The Jaguar I-Pace is the 2018 Auto Express Premium Electric Car of the Year, with the BMW i3 and Tesla Model S commended
Up until now if you wanted a premium electric vehicle your choice was basically limited to some kind of Tesla, but Jaguar has arrived and moved the goalposts with its all-electric I-Pace SUV.
Jag has beaten its German rivals to the punch, delivering a technical tour de force in a premium package that breaks new ground in the class.
It's genuinely great to drive, as any Jaguar should be. Factor in the 395bhp four-wheel-drive powertrain and it only adds to the appeal.
All models use the same battery and motor set-up for now and it delivers devastating performance. This might be a big and fairly heavy car, but it'll sprint from 0-60mph in 4.5 seconds.
A lack of engine noise to drown out other sounds means refinement takes a hit with some other EVs, but not the I-Pace. The cabin is near silent at speed and is built from the kind of materials you would expect from a £63,000 premium electric car. There's tech everywhere, with two touchscreens for the infotainment and climate control, plus a digital display behind the steering wheel.
The weighty steering inspires confidence, while the chassis has plenty of grip. Helped by the motors' clever torque vectoring, there's lots of agility that similar petrol or diesel SUVs couldn't hope to match.
Importantly, it rides sweetly as well. There's lots of travel in the suspension, so it tracks over even torn surfaces with a nice, plush feel. Over gentle undulations the body control is solid but there's enough compliance to ensure plenty of comfort.
The car easily has space for four people and their luggage because the low position of the battery means the I-Pace's packaging isn't compromised. The near-300-mile range means there's lots of flexibility. Plug into a rapid charger and you'll get up to 168 miles of range back per hour, meaning with planned stops even longer journeys needn't cause any range anxiety.
Our choice
Jaguar I-Pace EV400 S (£63,495)
Even the entry-level S model gets all the kit you'd want, while all I-Pace variants feature the same powertrain and therefore stunning performance. This S-spec version is the most affordable option, which means you can spend a little more choosing the options you really want. No matter which trim level you choose, at the core of the Jaguar is a next-generation powertrain that thrills in all situations.
Commended
BMW i3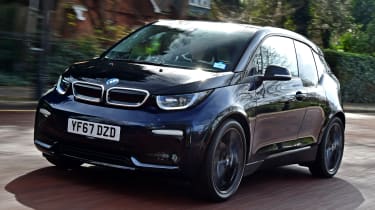 When it was launched in 2014, the i3 paved the way for premium EVs. A facelift late last year added more range and, with an S model joining the line-up, more performance for those wanting a sharper EV for urban travel. Constant development means a deserving commendation for the BMW here.
Tesla Model S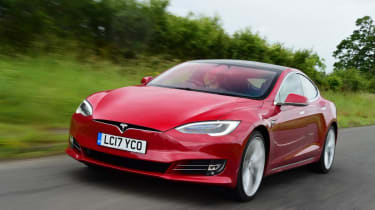 The electric car world is progressing relentlessly, but the Tesla Model S is still at the forefront of its sector. Incredible in-car technology, a choice of powertrains and strong real-world range across the board mean it's a fine choice for anyone after a premium model that runs on battery power.
Auto Express New Car Awards 2018
For complete, in-depth coverage of the 2018 New Car Awards, buy your collector's edition copy of the Auto Express magazine now or click here to subscribe...