Affordable Hybrid Car of the Year: Hyundai Ioniq Plug-in
The Hyundai Ioniq Plug-in is the 2018 Auto Express Affordable Hybrid Car of the Year, with the MINI Countryman and Toyota Prius commended
The Ioniq is a very important car for Hyundai, spearheading the brand's electrification push on three fronts. The Toyota Prius rival is available with three powertrains: a conventional hybrid, a plug-in and even as a full battery electric vehicle. But it's the PHEV version which deserves your attention as our Best Affordable Hybrid.
Under the bonnet a 1.6-litre four-cylinder petrol engine is paired with an electric motor to offer a total output of 139bhp. The performance is more than enough to make the Ioniq PHEV a brilliant commuting option, with enough power on tap to mix it with fast-paced traffic. Thanks to the electric motor it's quiet and refined in town, with rapid, stutter-free acceleration away from the lights.
The petrol engine helps at higher speeds and means there's no range anxiety that you might get with a similarly sized full EV, either. However, the efficiency on offer is even more impressive.
Hyundai claims an all-electric range of 39 miles, and official fuel economy is 256.8mpg. While this is ambitious, our time in the real world with an Ioniq PHEV has revealed that it's very fuel efficient, averaging an effortless 80mpg-plus over 4,000 miles so far. CO2 emissions of 26g/km bolster the Ioniq PHEV's green credentials and mean it's an extremely cost-effective company car choice.
Boot space is 341 litres, so it's as practical as many family hatchbacks, and unlike rivals such as the Toyota Prius Plug-in, the Ioniq PHEV seats five.
It's well equipped, too, with even the 'entry-level' Premium spec featuring a great haul of kit.
While the Ioniq could be a little more fun to drive, we can't deny the Hyundai's competency. With value for money factored in, the hatchback is an incredibly affordable plug-in hybrid choice.
Our choice
Hyunda Ioniq Plug-in Hybrid Premium (£25,345)
The Ioniq Plug-in is available in two highly specced trim levels. We'd recommend settling for the more affordable Ioniq PHEV Premium over the flagship Premium SE, because it still gets an eight-inch colour touchscreen infotainment system with navigation, Apple CarPlay and Android Auto, keyless entry and wireless phone charging. Both models offer the same EV range.
Commended
Mini Countryman S E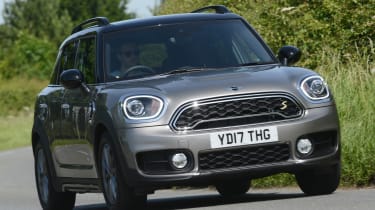 For something a bit plusher, the MINI Countryman S E plug-in hybrid is a sensible option. A 1.5-litre three-cylinder engine and an EV drivetrain offer 221bhp and four-wheel drive, enabling 0-62mph in 6.8 seconds. All-electric range is claimed to be 25 miles, while the agility and tight body control of the regular Countryman are retained.
Toyota Prius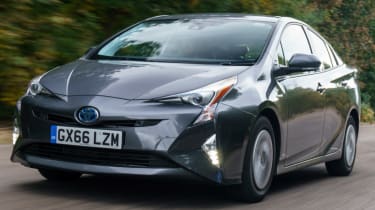 Our pick of the Prius range is the standard non-plug-in hybrid. It delivers great practicality and strong driving dynamics, given the efficiency on offer. You can add affordability to its list of attributes, while with electric power off the line, it's refined around town and provides a boost on more open roads.
Auto Express New Car Awards 2018
For complete, in-depth coverage of the 2018 New Car Awards, buy your collector's edition copy of the Auto Express magazine now or click here to subscribe...