New Honda Civic Type-R concept meets its fans
Honda Type R fans from around Europe converged on Belgium's Spa race track to get up close and personal with honda's new hot Civic
The death of the Honda Civic Type R four years ago epitomised Tokyo's drift away from the fast, furious and fun hot hatch. During its time, Honda's hero overcame criticism of its crashy ride quality and power deficit to other hot hatches, until EU emissions legislation forced the brand to wield the axe.
The Type R was Honda's last true performance car, and when it left the range it took plenty of credibility with it. To get your head around how frustrating it is for Honda fans that the company no longer sells a model with an R stamped on its rev-hungry engine, you just have to talk to existing Type R owners. Happily, we had a good reason to do just that, as the Civic Type R is coming back – this time with turbo power.
We first saw the new Type R concept at March's Geneva Motor Show, but Honda took it to Belgium's Spa-Francorchamps track as a support act for the recent World Touring Car Championship race. And it invited Type R owners from around Europe for a closer look.
"I think the concept looks amazing," said Richard Sedgeley, from Sheffield, who owns a previous-generation Type R. "But I'd like to seehow much of that is going to make production. The last Civic Type R brought what we saw in the concept car to the road. With the new one, we're not sure. We're putting our trust in Honda."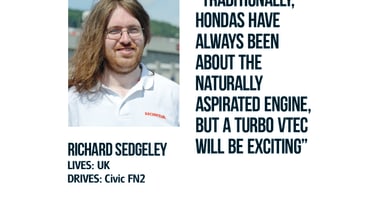 That's a worry which was echoed by every Type R owner we chatted to. "I hope it gets to the street looking this way," agreed Jan Oltmann, who brought a unique Civic to Spa from Germany. "If it looks like the concept and the engine is good, I'll think about buying one."
Unable to buy a Civic Type R coupe, Jan built his own, using the body of a MkVII two-door Civic (an EM2), plus the engine and suspension from a MkVII Type R (the EP3-generation 'Breadvan' three-door). Modifying is as competitive among Type R owners as in any hot hatch fraternity, with several cars present at Spa displaying the TTS Performance supercharger kit – it reportedly gives a boost from 198bhp and 201Nm of torque to 337bhp and 308Nm.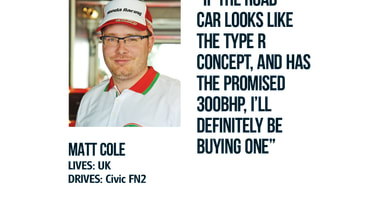 But the most extreme Type R we saw was the 1999 car owned by Michael de Smit from Holland. "I ripped out the rear seats, installed a roll cage and three-point harnesses, then added a new intake and headers to the engine," he explained. "The brakes are by Dixhel, which I got from Japan."
It's a serious piece of kit then. So what does a classic Civic Type R fan think of the 21st century reboot? "The new car looks good, although I hear Honda will change small things," said Michael. "I like that it's a turbo – but I prefer my car. It cost a lot of money and I don't think I'll ever sell it."
Still, not surprisingly, much of the tuning set is salivating at the prospect of an easily tunable turbo Type R. Matt Whyte-Earl from Carlisle was happy to point out that his car's bonnet can't be removed without a screwdriver, due to a carbon fibre air intake. "I've also got a new ECU which gives me launch control," he smiled, miming the engine's warble as it's pegged at optimum revs.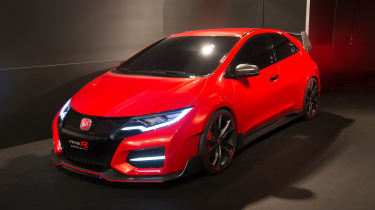 On a dyno, Matt found his car develops 232bhp, and it will top 160mph – on a track day, naturally. "I can't wait to get my hands on the new Type R," he confessed. "I don't mind that it's a turbo at all."
But where was the vitriol we expected from the core audience, dismayed at Honda's soul-selling switch to forced induction? Had the brand only invited its most open-minded Type R fans to Belgium? Darren Connolly, who travelled to Spa with mates from Bexleyheath in Kent, is the voice for the prosecution. "Going turbo wasn't the right choice," he said. "I know Honda has to be seen to move with the times, but I want a 9,000rpm engine. I'd have liked to see the new Type R naturally aspirated to be honest."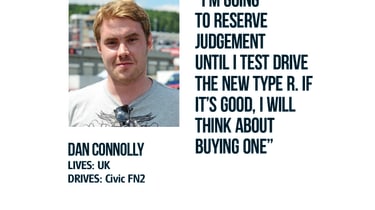 Initially agreeing with the 'No Turbo' vote – but wavering – was Matt Cole from Wrexham, north Wales. "I wasn't too sure when I heard about the turbo Type R, but I'm warming to it," he told us. "If it has the 300bhp they're claiming, it'll be pretty exciting, and it looks incredible."
The more owners we met, the clearer it became that Honda needn't have worried about going turbo, and has a best-seller in the making. "Anxious isn't the word – I'm chomping at the bit to drive the new car," said John Rule from Rugby, Warks. Andy Jones from Wrexham, who drives his 240bhp Accord Type R every day and on track days, agreed: "I'm not normally a Civic Type R fan, but if the new car comes out looking like this, I'll buy one. Turbocharging is the way to go."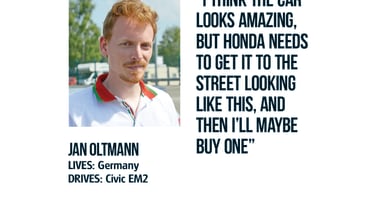 Judging by the verbal sales promises, the happiest man at Spa must have been enthusiast and amateur Civic racer Geert Verhagen. He's been a Honda dealer in Rotterdam for the past 45 years, and has owned every iteration of the Civic Type R. Geert's confident the new car will be good news for his business, and told us: "It's great looking, and reliability is always good with Hondas. It'll be my company car!"
And while the WTCC Hondas didn't have much joy around Spa's twisty 4.3-mile circuit – they were soundly outqualified by their Citroen arch-rivals – the 200 Type R owners present got a chance to restore some pride. We were invited on to the circuit to join them for two 60mph parade laps – but the speed limit quickly went out of the window and we were soon in a screaming train of 100mph-plus VTECs.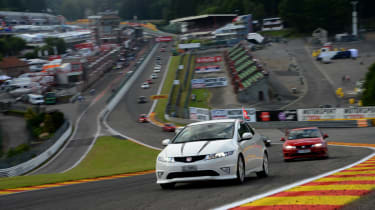 Ours was one of the most potent cars here: one of 20 Type R Mugen editions with an upgraded 237bhp engine, even stiffer suspension and a Thunderbird 2 bodykit. It was fantastic on a race track, but wasn't the easiest car to live with for the 800-mile round trip to Belgium.
And that's the nub of the issue. While the Civic Type R has been away, the hot hatch game has moved on, in speed and sophistication. There are too many candidates waiting to mop up that enthusiasm should Honda fail to deliver this time. Your move, Tokyo.
What do you think of the Honda Civic Type R Concept? Tell us in the comments section below and read more about it here.